Have you noticed that the skin of your neck is different from that of the face, and in most cases, looks older? We often put our efforts and investments into and onto our face, only for our neck to tell a very different story about the health of our skin.
Understanding the Skin of the Neck

There are many reasons as to why the neck is more prone to premature skin ageing.
To begin with, the skin of the neck is relatively thin and is subject to almost constant movement. The muscles sitting underneath the skin of our neck are responsible for the motion of moving our head up and down, but also for our human expressions. Surprisingly, we use the muscles of the neck to smile, frown and even kiss!

Even though most of us are aware of the fragility of the neck, we tend to neglect it. It's often not included in our daily skincare routine, and if it is, it's given less than its fair share of treatment. In the case of sunscreen, this means we are leaving our skin vulnerable to extrinsically driven skin ageing and damage.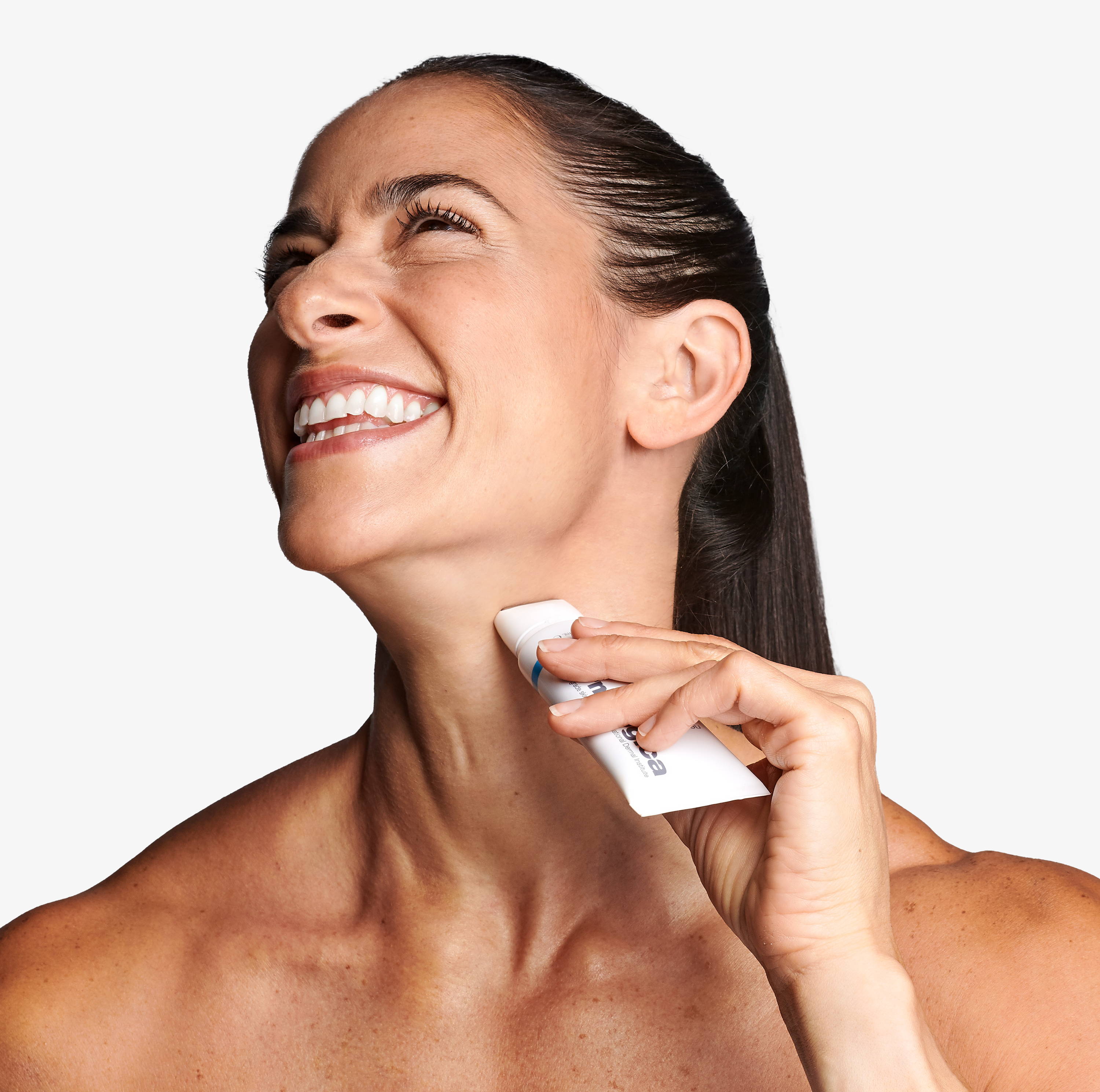 Have you heard of tech neck?

There's now a new modern-day phenomenon affecting the neck skin, along with our wellbeing too.
Due to our increasing consumption of technology, which has undoubtedly sped up this year, many of us are suffering from "tech neck".
Repetitively holding our head forwards and downwards to look at our devices, whether that be a computer, tablet, or mobile phone, puts excessive stress on the neck. Symptoms of tech neck include stiffness and pain, headaches and for the skin, lines and wrinkles.
A workout for the chest and neck!

Combining expertise in skin with new research in mechanobiology, Dermalogica has created an advanced solution for the neck and chest. The Neck Fit Contour Serum is a lightweight, roll-on neck serum that tightens skin immediately and tones over time.
Fusing science with nature, Neck Fit Contour Serum features a blend of plant based and lab created ingredients to deliver noticeable improvements of the neck and chest.
Firstly, Flex Lift Contour Technology acts like an invisible mesh, stretching to lift and tighten, and smoothing to soften the appearance of fine lines. What's more, Flex Lift Contour Technology doubles up as a barrier against age accelerating pollution. Rye Seed Extract, a novel Palmitoyl Tripeptide-42 and Rambutan Extract work synergistically to deliver Retinol-like results, leading to a reduction in lines and wrinkles. Resurrection Plant-inspired polysaccharide is focused on hydration, increasing moisture to the commonly dehydrated neck skin. And there's also Griffonia Seed Extract, a plant native to Western Africa, that provides antioxidant protection against the stressors of premature ageing.
When applied with the roll-on massager, the results of Neck Fit Contour Serum are enhanced. It's a well-known fact that massage helps to achieve a healthy glowing skin, due to its positive effect on circulation and toxin removal. Studies also now show that massage can activate skin renewal, helping to strengthen and firm the skin.
---

Treat the neck with Neck Fit Contour Serum morning and night for best results, dependent on skin.
To use:
1. Twist the applicator 'ON' so the serum can be dispensed and gently squeeze the tube whilst moving the roller up and down, across the neck and chest.
2. Then turn the applicator 'OFF' and continue to massage the serum into the skin. Hold your chin up to allow the serum to dry and provide instant tightening.
3. Follow with your Dermalogica moisturiser and SPF during the daytime.
It's recommended to not use any other serums on the neck area in conjunction with Neck Fit Contour Serum.

Look to incorporate professional skin treatments that focus on the neck for the ultimate neck workout and results.

Neck Fit Contour Serum can be used on all skins and will treat existing signs of skin ageing, along with preventing against future damage and improving the health of the neck skin.