What does Inner Health mean?
Inner health is what we refer to as the healthiness of our insides. 70 to 80 per cent of the immune system lies within our digestive system and when your gut is functioning optimally, you will notice better energy, mood and immune function and better skin health! It is really important to take care of not only your skin, but your gut health too.
How does our inner health affect our skin?
Have you ever noticed that when you eat healthy, you feel more energetic and your skin looks clearer? Well, there's a reason for that!
Your gut and skin are connected through what's called the "gut-skin axis". The connection between your gut and skin is maintained by trillions of bacteria, fungi, and other living organisms in your body, known as the microbiome.
These microbes play a critical role in your health. An imbalance in your gut or skin microbiome can cause changes on your skin, such as acne, redness, or dryness, as well as internal changes like digestive issues.
By maintaining a healthy diet and supporting your gut health, you can improve your skin's appearance and boost your overall health and wellbeing.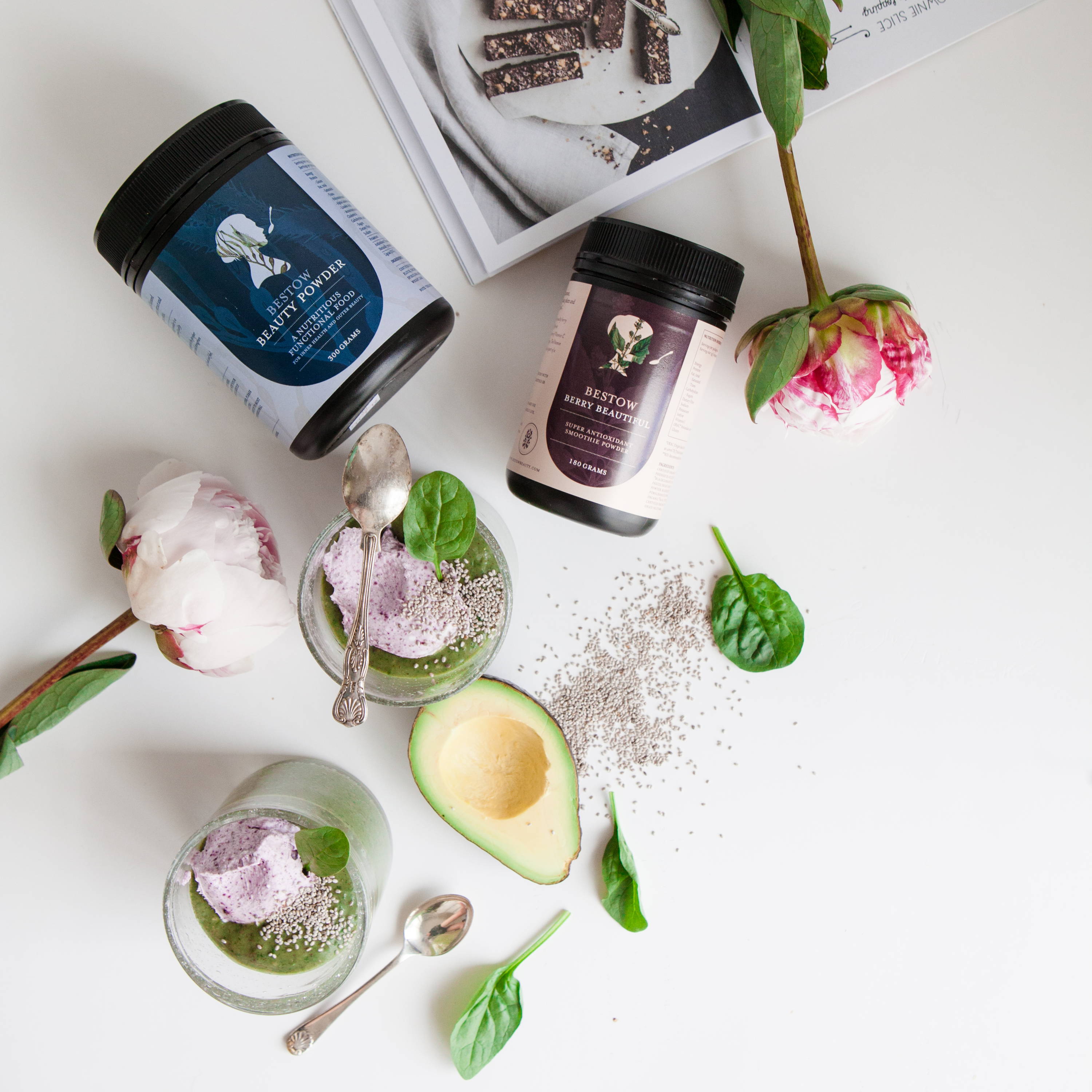 Nutritional support for Everyone
The condition of your skin is influenced by various factors such as your diet, environmental factors, lifestyle choices, hormonal balance, and self-care practices.
For our skin to stay healthy, resist premature ageing, and heal efficiently, it requires a diverse range of nutrients. If you have dull, lifeless, inflamed or spotty skin, it could be a sign that your body is not receiving enough essential nutrients or that your diet is negatively affecting your complexion.
There are several options to choose from depending on if you prefer a tablet, power or oil form for your supplements. Here are some of our favourites here:
Bestow Gut Love+ is a comprehensive supplement that incorporates probiotics, prebiotics, and digestive enzymes to enhance gut health and rejuvenate the skin. By restoring balance to the digestive system and facilitating the efficient elimination of skin-irritating toxins, this supplement can help promote clear and healthy skin from the inside out.
Key Benefits:
Helps restore gut balance and eliminate skin-irritating toxins

High fibre content supports regular toxin elimination for clear skin

Contains soothing ingredients to heal the gut wall

Provides essential vitamin D for gut and immune system health
Key Ingredients:
Certified Organic, Cold Pressed Flax Seed Flour, Sunflower Seeds And Almonds. Uncertified Slippery Elm, Blackcurrant Extract, Citrus Pectin, Guar Gum, Liquorice Root, L-Glutamine, Organic Sulphur, Ginger, Uncertified Vitamin D Yeast, Biohm Probiotic.
---
Bestow Beauty Plus Oil contains a beautiful balance of healthy fats (EFAs) for clear, glowing skin.
Key Benefits:
Helps overcome EFA processing blockages for dry or lacklustre skin.

Moisturises skin from within for a smooth and glowing complexion.

Contains linoleic acid, which improves barrier function and oil flow.

Includes prostaglandins to regulate inflammation and promote healthy skin.

Includes primary and secondary fats to support the body's processing of the full family of fats needed for skin health.

Updated organic formulation now includes hemp oil, with an almost perfect balance of EFAs for skin and body health.
Key Ingredients:
Organic cold pressed flaxseed, safflower oil, hemp, coconut, evening primrose and blackcurrant seed oils.
---
Happy Gut = Clear Skin.
For skin concerns: All Skins and especially for acne, oily, excema, rosacea and reactive and sensitive skins
This is a next generation skin supplement with innovative biome technology that targets problem prone and stressed skin to help reduce inflammation in the gut
Each capsule contains 5.6 billion active cultures and comprises of 4 strains of skin friendly bacteria with zinc. Supports gut health, skin immunity, reduce inflammation and decrease excessive sebum. All these factors are known to contribute to skin concerns.
Key Benefits
Works from the inside out to clarify the complexion

Works to balance the skin's natural barrier

Helps support gut flora

Supports skin immunity

Brightens skin
This is a great next step once you have completed or are taking the Clear Skin Biome Skin.
Its an award-winning supplement system and combines 18 nutrients that provide a comprehensive synergistic assortment of vitamins to target common concerns in a convenient daily dose pod format. It's all set out for you to help you keep on track each day.
Key Benefits
Supports uneven skin tone and photo-

damage, promotes skin radiance

Addresses lines & wrinkles

Excellent bridal prep

Ideal for ageing skin – acts like "an anti- ageing facial in supplement format"

For those who also want hair and nail support

Photo-damaged uneven skin tone

 
Key Ingredients
Omega 3 and Omega 6

Vitamin A (Retinyl Palmitate)

Powerhouse dose of 7 Antioxidants

Astaxanthin, Pine Bark Extract

Skin Co Q10
If you need any guidance or advice around nutritional support, please reach out to us for advice. We offer complimentary Online Skin Consultations via email, zoom or phone.



My name is Sarah and I am the founder of GLO Skin Body. With almost 20 years experience, I believe a professional relationship with your skin therapist is crucial in helping you to achieve your skin care goals and to ensure your skin is always looking and feeling its best. Whether it's in person or through our online support, Im here to guide and support you towards your healthiest skin ever.
On a personal note, I am a Mum of 3 so I understand completely the juggles and balancing of life and family commitments . My goal is to help everyone have an effective and enjoyable home care routine that gets you the results you want...no matter how busy you are!