At home LED devices give you the opportunity to take your results to the next level. In conjunction with your skin care routine, Omnilux LED masks give your skin the professional results in the comfort of your home/environment.
LED Light Therapy is one modality that has come to the forefront of at-home devices for our skin.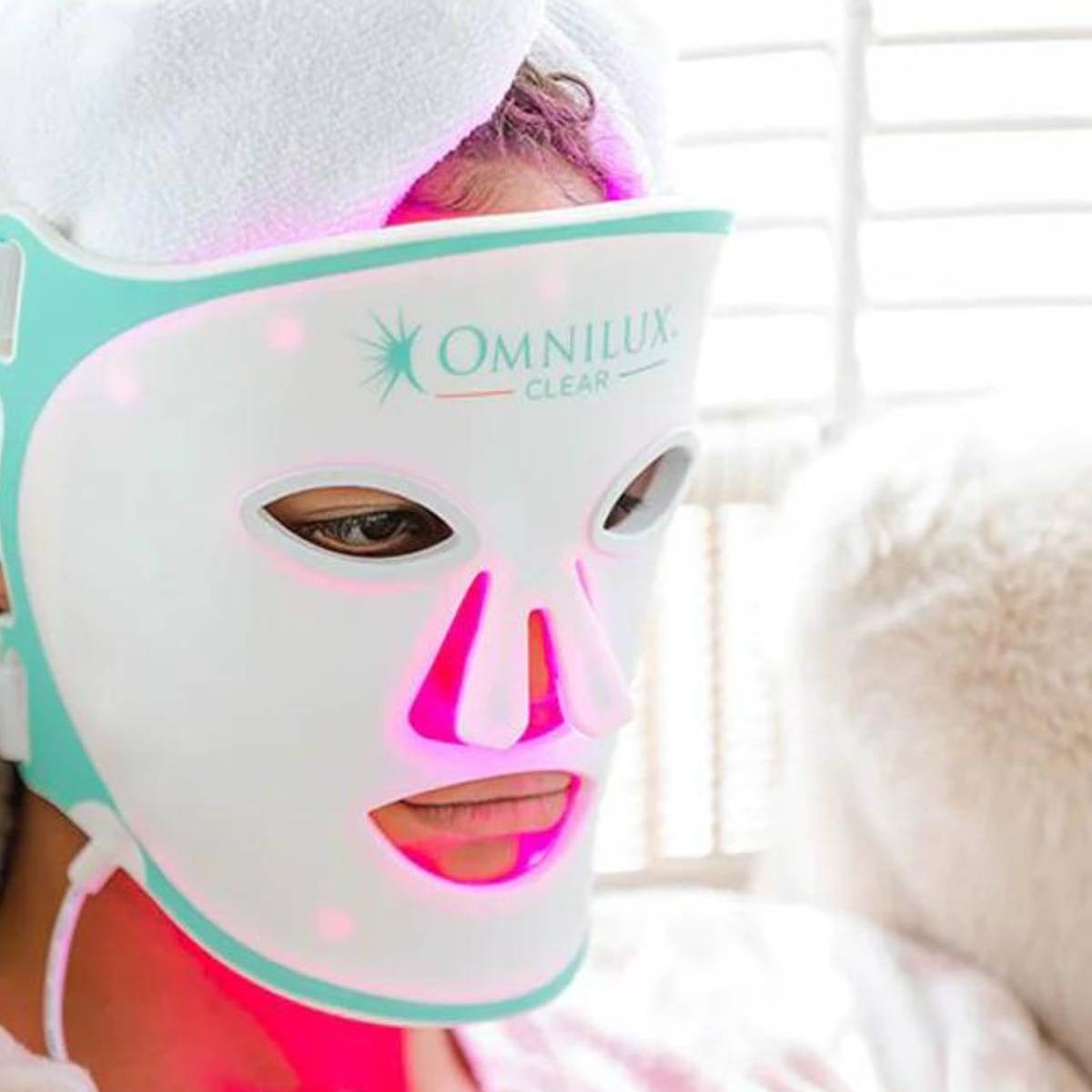 ---
---
Based on the world's leading Omnilux MedicalTM light therapy technology, the Omnilux devices use light emitting diodes (LED) and depending on the mask you use, will help to reduce fine lines and wrinkles, improve overall skin tone or reduce and clear those unwanted breakouts.
That will support the health of the skin to give you a more youthfull appearance and improved skin health.
No adverse side efects, no pain and no downtime! Omnilux Contour generates no heat and is safe for all skin types.
5 Reasons you should use LED at home
1. Reduces fine lines and wrinkles

Optimised energy output and two clinically proven wavelengths of red and near-infrared (633nm and 830nm) of light work on a cellular level to stimulate collagen, reduce fine lines and wrinkles, and reduce the visible signs of aging and sun damage.

Benefits of the red wavelength (633nm) :
Targets and calms inflammation and redness

Reduces pigmentation

Promotes cellular repair and circulation for a more vibrant complexion





Benefits of the near-infrared wavelength (830nm):
Targets deeper fibroblast cells to stimulates new collagen and elastin production

Provides a plumper, firmer and more youthful-looking skin


Not only can you target your concerns of ageing on the face, Omnliux also has you covered when it comes to ageing of your neck and hands. Omnilux Neck and Decollete and Omnilux Contour Glove.
Omnilux Clear targets acne by reducing active acne and blemishes, redness & inflammation. It helps to soften the appearance of scarring and clears breakouts faster.
Blue light (415nm) targets and kills P. acne bacteria living on your skin's surface to help clear and eliminate breakouts.


Red light (633nm) penetrates to the deeper layers, triggering the body's natural healing response, including the production of new collagen, the reduction of excess oils, and the reduction of inflammation and redness.


3. Promotes a healthier and younger looking skin

Omnilux is the only home use LED devices based on the gold standard professional Omnilux Light Therapy System. Omnilux Contour has been clinically proven to reduce fine lines and wrinkles, improve skin tone and smoothness, and enhance overall skin health.
Omnilux recharges the batteries in your skin. Think of how well you feel after a holiday - well rested, relaxed facial muscles and ready and energised to get back into your routine... This is exactly how your skin will feel after each LED session and the more consistent, the better the results!

For concerns of Ageing:
Users in a clinical study reported their skin looked smoother, plumper and brighter, and also felt firmer.
98% Agree their skin felt firmer after 3 treatments per week for 4 weeks

96% Agree their fine lines appeared less visible after 3 treatments per week for 4 weeks

95% Agree their skin looked brighter and plumper after 3 treatments per week for 4 weeks
For concerns of Acne:
Users in clinical studies, Omnilux has been shown to reduce or eliminate acne in nearly all participants. In fact, on average, participants achieved a 70% clearance of acne after 4 weeks of twice weekly Omnilux use. 1
5. Easy, convenient and portable
Consistency is key! For best results we recommend using your Omnilux mask 3-4 times per week for the first 4-6 weeks and then twice a week for maintenance.

Each session will go for 10 minutes and your mask will automatically switch off when it's finished.
It's easy to pack and transport while you travel. It's also easy take it to the office to give your skin a boost in your lunch break (and some time out).
Easy to use, at the time that works best with your schedule.
---
We offer complimentary skin advice and consultations, so please reach out to us if you need advice on which Omnilux mask is right for you!
---


My name is Sarah and I am the founder of GLO Skin Body. With almost 20 years experience, I believe a professional relationship with your skin therapist is crucial in helping you to achieve your skin care goals and to ensure your skin is always looking and feeling its best. Whether it's in person or through our online support, Im here to guide and support you towards your healthiest skin ever.
On a personal note, I am a Mum of 3 so I understand completely the juggles and balancing of life and family commitments . My goal is to help everyone have an effective and enjoyable home care routine that gets you the results you want...no matter how busy you are!