Besides the amazing results and the glowing way it leaves the skin feeling, one of the other reasons the Daily Microfoliant is a 'hero' in the Dermalogica range is because of the many different ways it can be used in our home care routine.
The Daily Microfoliant was created for those skins that LOVE to exfoliate every single day. A way to smooth and brighten the skin daily, yet gentle enough that won't strip or damage the skin from being over-exfoliated.
Should I be using the Daily Microfoliant every single day?
If your skin can tolerate a daily exfoliation then, yes! Otherwise, benefits can also be seen on the skin if used multiple times within the week.

For the exfoliation enthusiasts and skins that are not sensitive, this product can be used to smooth and brighten the skin ready for the day ahead... and the results are instant!
I have sensitive skin, how often should I use the Daily Microfoliant?
Even on sensitive skins, the Daily Microfoliant gives results. We recommend using your Microfoliant twice a week to start with. This can certainly be increased if the skin is responding well (as in there is no additional sensitivity) to the exfoliation. Otherwise, you may continue using it twice a week and still see results.
Can Daily Microfliant be used with other Dermalogica exfoliants?
The Daily Microfoliant can effectively be used in conjunction with other Dermalogica exfoliants in the range. The exfoliant you'll use alongside the Daily Microfoliant depends on the exfoliant's strength and the tolerance of the skin, as we don't want to over-exfoliate and create irritation on the skin.
Here are our top combinations:
Is it best to use Daily Microfoliant in the morning or evening?
As life is different for everyone, I believe we need to exfoliate the skin when it works best with our daily routine. Eg if your mornings are hectic, and cleansing and moisturising/SPF is all you can manage, then opt to exfoliate your skin at night time. On the flip side, if you work late into the night, then exfoliation may work better for you in the morning. The key is to make your home care routine effect and enjoyable and not a 'chore'. Plus, your skin will be thankful for it.
*if using retinol, this form of exfoliation must be used at night time only
Our tips to help you be consistent with the Daily Microfoliant:
Daily Microfoliant can be mixed in with the Dermalogica cleanser for a 'power up' cleanse if you are short of time.

If you wash your hair every alternate day, then tie in your Daily Microfoliant to this time as well, and use it while your hair is being conditioned.

Ideally when we exfoliate, applying a masque afterwards gives your skin a treatment. You can opt to apply a masque on a particular night of the week to give yourself extra self-care time.
If you need any advice about the Daily Microfoliant and your skin or you would like to know which Dermalogica exfoliant is right for you, click here for advice.
---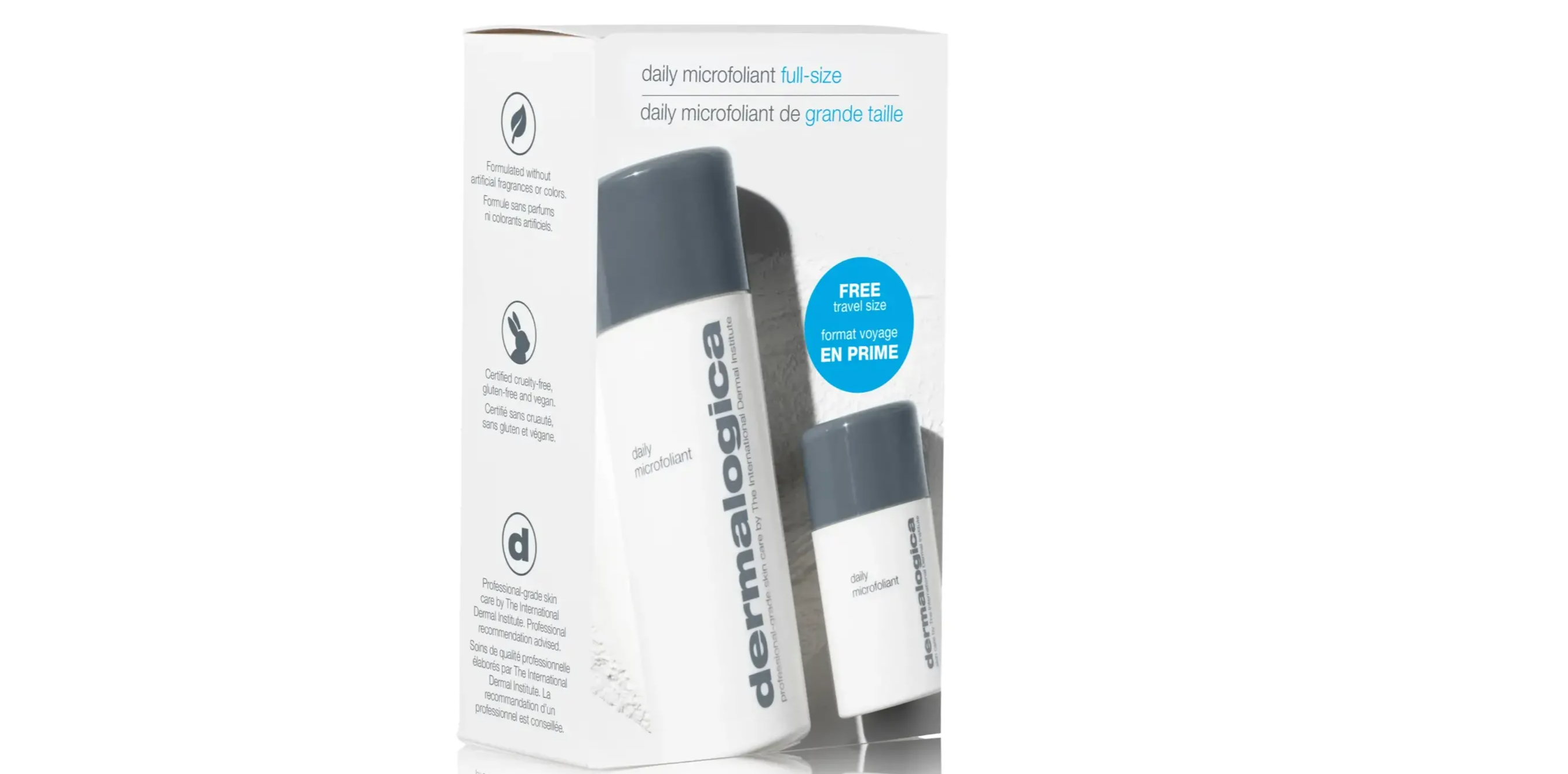 A brightening complex of Licorice, Rice and Grapefruit helps even skin tone.

Rice Bran and Rice Extract gently microfoliates the skin's surface to facilitate penetration of the brightening complex.

Papain and Salicylic Acid help dissolve excess surface cells.
Purchase your Daily Microfoliant and receive a FREE travel Size Daily Microfoliant 13g
Be environmentally friendly and top up your Daily Microfoliant easily with this refill pouch.
Continues to keep your skin feeling smooth and looking bright whilst caring for our environment.
---

My name is Sarah and I am the founder of GLO Skin Body. With over 17 years experience, I believe a professional relationship with your skin therapist is crucial in helping you to achieve your skin care goals and to ensure your skin is always looking and feeling its best. Whether it's in person or through our online support, Im here to guide and support you towards your healthiest skin ever.
On a personal note, I am a Mum of 3 so I understand completely the juggles and balancing of life and family commitments . My goal is to help everyone have an effective and enjoyable home care routine that gets you the results you want...no matter how busy you are!