6 Ways To Get Your Partner To Look After His Skin
I have worked in the skincare industry for over 10 years, and I am proud to say that I have helped improve so many of my clients' skins!
However, one thing that I've found challenging is to get my partner to use skincare products. I've tried so many times with different products and brands and he's just never showed interest in any of them!
The biggest reason women use skin care products is that we want to look at the healthiest and most youthful as possible at every moment. And so do men! However, most men do not incorporate a skincare routine as an essential part of their daily lives.
That is the reason why some men don't know the benefits of skincare or other men understand the importance of it but have no idea where to start.
I feel like they need a little helper and I am asking you to help your partner's skin to be as healthy and youthful as yours! Couples that do their skincare together, stay together!
So let's get started on how to get your partner to look after his skin.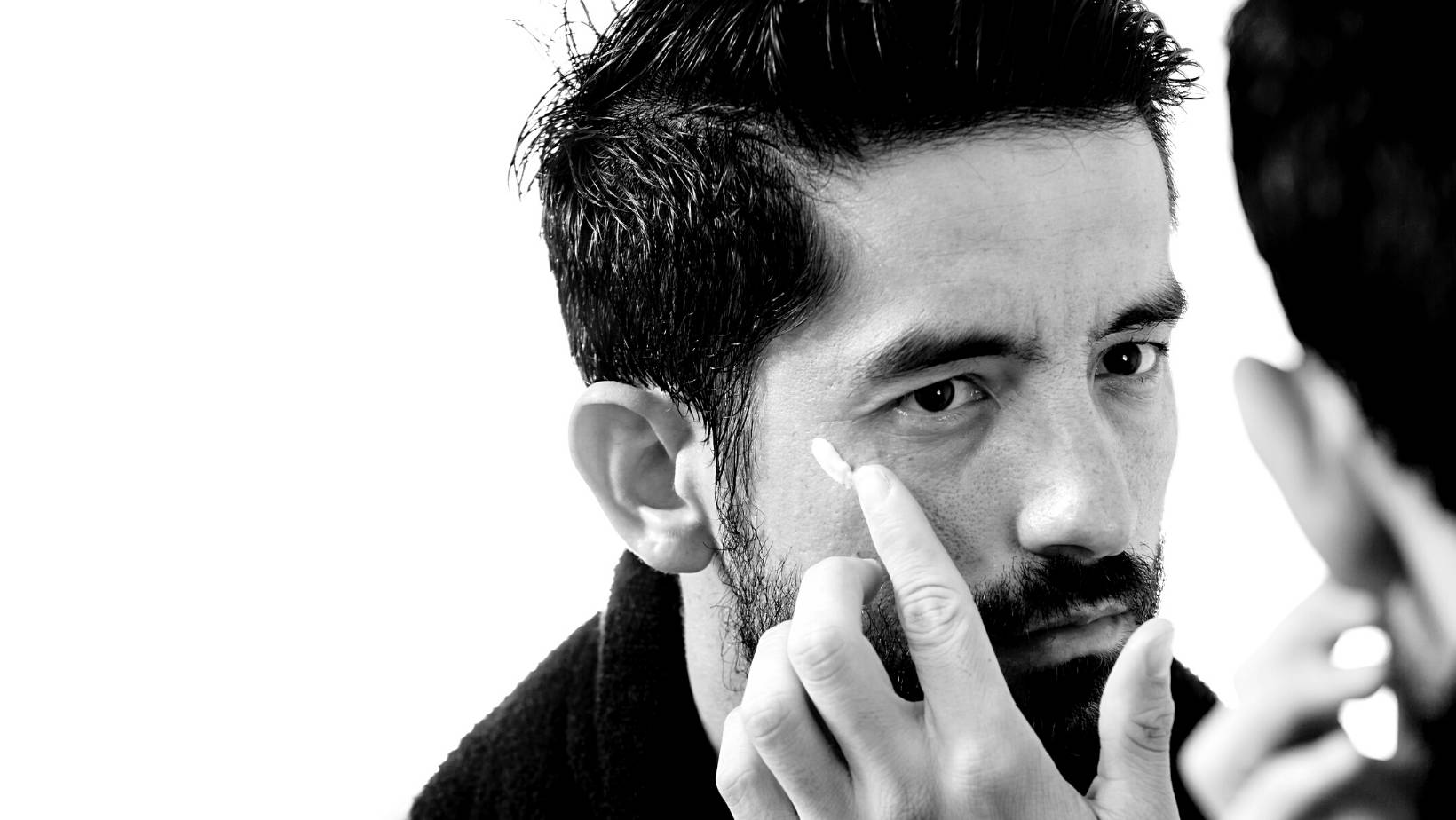 ---
1. Give him a reason to start a skincare routine
Ask your partner if his skin has been feeling dry, oily, sensitive or congested and would he be happy if there is a solution to have healthier skin?
Most likely he will say yes. You can even ask if anything about his skin bothers him. You can tell him that a very simple skincare routine can help his skin to get so much better! When he knows the true benefits of skincare products you will soon start to see a growing interest and attentiveness from him.

2. Use male friendly language
You don't need to make him understand what vitamin C does to the skin or what a serum is. All you need to do is to find a language that he can relate to and understand.
My partner somehow calls all skincare products 'creams'. So I always tell him to use the cream in the pump (meaning cleanser) in the shower and to put a small tube of cream around the eyes (meaning the eye cream ) and a big tube of cream all over the skin (meaning the lotion).
Men also don't need to be told how beautiful a 'cream' feels on the skin or how gorgeous the smell is. They like to know how functional the product is, so be simple and informative about its benefits and how to use it.

3. Keep it simple and slowly develop his skincare
Start with simple products and steps. Most of the time 3 steps (cleanse, exfoliate and moisturise) is enough. If your partner seems to enjoy the result of his newly acquired skincare habit, you can slowly add extra products such as an eye cream or a serum. Here are some favourites for the males:
Great as a shaving option
Soap-free foaming Gel
Leaves skin feeling clean and refreshed
Brighter smoother skin
Gentle on the skin
Easy to use in the shower
Oil-Free and lightweight
Hydrating with no oily-shine
Refines skin with botanical extracts

4. Choose a product that men can relate to and is easy to use
Easy and not greasy! Those are the keywords for what men tend to prefer in terms of skincare. They also will generally prefer a refreshing scent over a flowery smell. Give him something stress-free to use - so not a jar of cream that needs a scooper to get it out each time.
Men don't appreciate a product that has a pretty colour or image that may be too 'girly'. They enjoy a simpler and clean package branding.
It may sound like a small thing to women but it could easily be a reason why he doesn't like to use your skincare products.

5. Give him compliments and encourage him
Once he starts using skincare products, give him credit and positive feedback. Like 'your skin is looking so healthy and clear' 'Wow, your cream is almost empty, I'm so proud to see you taking care of your skin.' Once he starts seeing results from skincare, he may ask you questions regarding the skin for further results. Encourage him! Never joke about it, or make him feel like he is being too 'girly'.

6. Have a mask night together!
Earlier I mentioned: keep it simple. But there's no harm in trying to give him a facial mask every now and then! Make it a couples night in, put a mask on his and your face while watching TV, have a glass of wine.
Be encouraging so that he will look forward to the next mask night!
Soothing clay masque

Helps clear breakouts and minimise premature signs of skin ageing.

Oil-absorbing clays help detoxify skin as Salicylic Acid clears pore congestion.
Hydrating and exfoliating five-minute masque

Smoothes and renews for luminous, healthy-looking skin
Hope these tips help you get your partner to look after his skin! And if you have more questions, or would like to know what product to buy for your partner, please feel free to email us at any time for advice.
We'll be happy to help!
My name is Sao, and I have been in the Skincare Industry for over 13 years.
My background is Japanese, and in my time as a Skin Therapist, I have had the opportunity to work in luxury hotel spas both in Japan and Australia. I have been fortunate to connect with clients from many different backgrounds and lifestyles. During this time, I learnt to understand the inseparable relationship between the skin's health and lifestyle, environment, mental space and genetics. That has given me an incredible level of passion and also motivation to be detailed in my consultations and to create personalised skin regimes.
I love results-driven treatments, but I also believe in relaxation and a sense of 'being cared for'. My approach aims to benefit skin, mind and body.