As a Skin Therapist, I'm often asked "Is this brand for men?" My answer: YES! Most products on the market are UNISEX.
So does this mean men can start using the same products as their female partner or mum? Well, not exactly... There are differences between male and female skin, so skincare for men will generally be different than for women.
What is different about men's skin?
One of the biggest differences between men's and women's skins is the hormonal production. Men produce more male dominant hormones - called androgens. This makes the skin create a thicker top layer and bigger pores to secrete more oil. Another difference is that men have more (and coarser) hair on their face - which is no secret to anyone.
So how can we make men's skin healthier? Let's go through the 7 most common misconceptions about male skin to find out!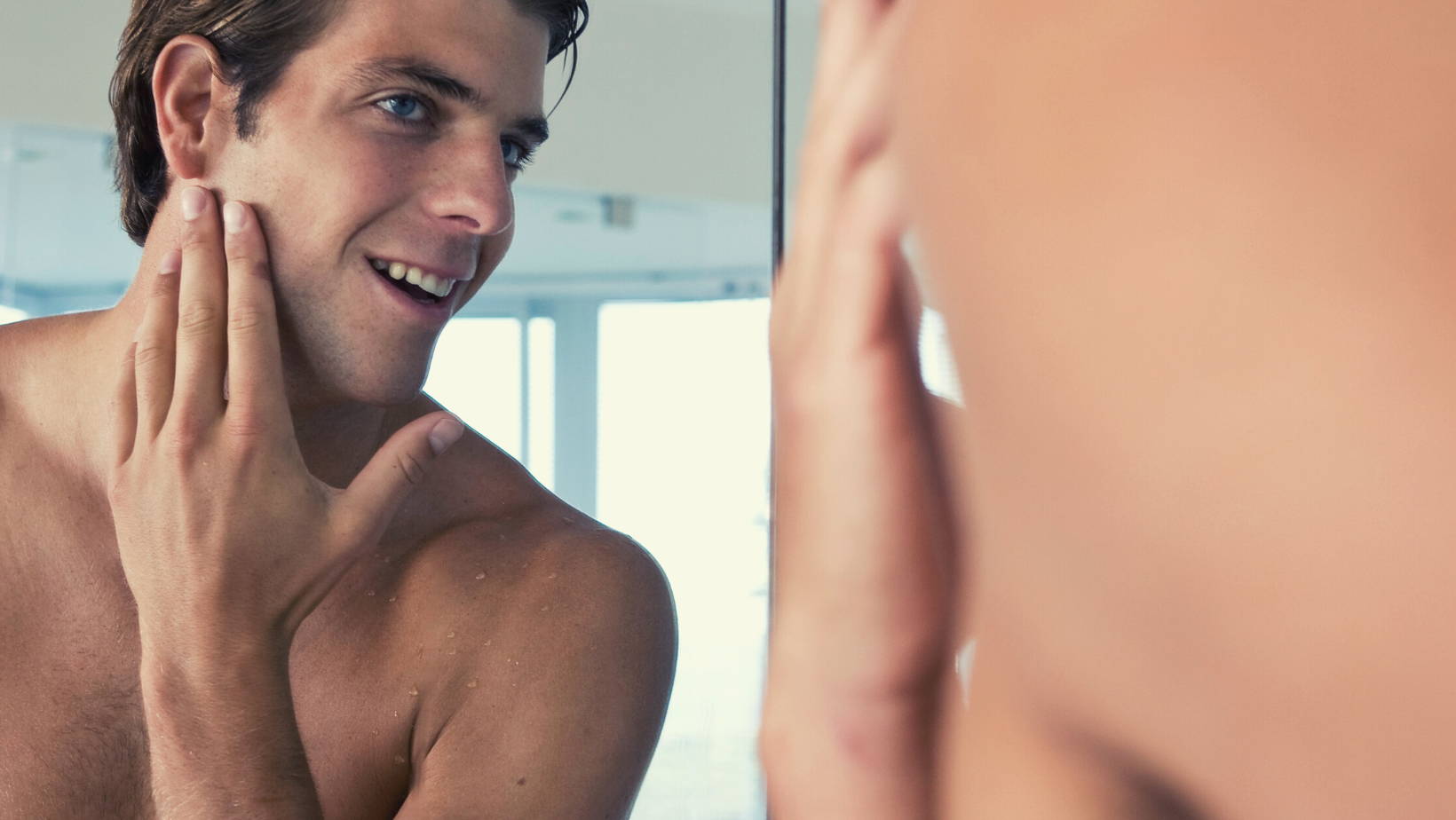 1. "You should use a coarse scrub because your skin is thicker"
Regardless of the skin's thickness, a coarse scrub and firm pressure might damage the skin. This could potentially strip your skin of its oils, leading to dehydration and an acceleration in the skin ageing. We recommend exfoliating on a regular basis to keep the skin smooth and bright, but using an appropriate exfoliant for your skin type.
If you're unsure what exfoliant is best for you, don't worry, we're here to help you find the best products for men's skin with free advice!
2. "Male skin never gets dry or sensitive"
Even though men's skin tends to be thick and more oily, depending on how you're looking after it, your lifestyle and environment, the skin can get dry and sensitive.
Applying a moisturiser and SPF everyday is essential to protect your skin against the damaging UVA and UVB rays.
3. "Male skin is oily, so they don't need a moisturiser"
No matter how oily the skin is, it's important to apply moisturiser morning and night. Moisturiser helps maintain your skin's natural barrier function and shield hydration into the skin.
If your skin is not hydrated enough, it will produce even more oil to compensate for the lack of hydration. So even if you have an oily skin, it is important to wear moisturiser - we recommend an oil-free moisturiser such as the Oil-Free Matte SPF30
4. "Irritation from shaving and ingrown hairs is just part of the package of being a man"
It is important to use a "shaving agent" when shaving, to reduce the stress on the skin caused by the blade. Choose an antibacterial ingredient like salicylic acid, and have regular exfoliation to prevent ingrown hairs.
If your skin gets easily irritated from shaving, it's important to find a product that has soothing and calming benefits. Having a long run of sensitive skin will cause dryness and premature ageing in your skin and potentially more ingrown hairs.
5. "Cleansing isn't as necessary for men, because they don't wear make up"
Our skin can accumulate all kinds of impurities throughout the day, with or without makeup on it - such as pollution, dust, bacteria and sweat.
Cleansing removes all the dirt and grime from the skin, so it can focus on repairing and renewing overnight. Plus, it also helps prevent blackheads! Cleansing in the morning and double cleansing at night is the key.
6. "Men like skincare simple and easy, so using body soap for your face is good enough"
It's tempting, but there are better choices for the skin!
The skin on our body and face are very different. Put simply, the facial skin is more sensitive and prone to more changes - hence most of our skin concerns are on the face rather than the body. The face is also the one part of the body that is always exposed to the sun and therefore, constantly exposed to the damaging UV rays.
This is why a facial product is specifically developed to treat and work on concerns we see in this area.
7. "There are only limited skincare products/brands that men can use"
There are a lot more products for men (or unisex) than most people realise.
If you don't feel comfortable seeing a professional Skin Therapist in person, don't worry. We have Skin Experts available online for Free Skin Consultations via email, phone or video. We would love to help you tackle your concerns and find a skincare routine that works for your lifestyle.
So where to go from here?
To help get you started, here are our top tips to begin with:
Cleanse the skin with face wash in the morning and evening

Exfoliate regularly to prevent blackheads and ingrown hair

Use a shaving agent when shaving

Use a soothing or antibacterial product after shaving

Wear moisturiser in the morning and evening

Wear SPF everyday - you can get a moisturiser with SPF

Utilise our online support (email, phone, Zoom) to talk to a Skin Expert
Some of Dermalogica's favourite products for Men
Great for shaving
Soap-free lather
Purifies and Calms
Smooth, Brighten
Easy to use
Gentle enough for daily use
---
Lightweight
Hydrates and Refines
Balances skins Microbiome
All-day matte finish
Oil-free and lightweight
Shields against UV rays
My name is Sao, and I have been in the Skincare Industry for over 13 years.
My background is Japanese, and in my time as a Skin Therapist, I have had the opportunity to work in luxury hotel spas both in Japan and Australia. I have been fortunate to connect with clients from many different backgrounds and lifestyles. During this time, I learnt to understand the inseparable relationship between the skin's health and lifestyle, environment, mental space and genetics. That has given me an incredible level of passion and also motivation to be detailed in my consultations and to create personalised skin regimes.
I love results-driven treatments, but I also believe in relaxation and a sense of 'being cared for'. My approach aims to benefit skin, mind and body.