Using at-home technology devices to address skin ageing concerns have become very popular and it offers several advantages:
Convenience - being able to use these in the comfort of your own home, anytime.

Value for money - the investment allow you to use this over an extrended period of time

Privacy - addressing your concerns in your home

Consistency - being able to do this on a regular basis helps give you better long term results

Complements professional treatments and extend their benefits. However, remember it is crucial to choose high quality products, follow instructions diligently, and consult with a dermatologist or with a Skin Therapist for any specific concerns or conditions.
Introducing Bio-Therapeutics BT - Sculpt
This revolutionary new facial toning device provides professional-grade lifting and firming in the convenience of a rechargeable, handheld unit!

The patented, pre-programmed Suzuki Sequencing energises the skin and safely stimulates the facial topography into a firmer, more toned and lifted appearance.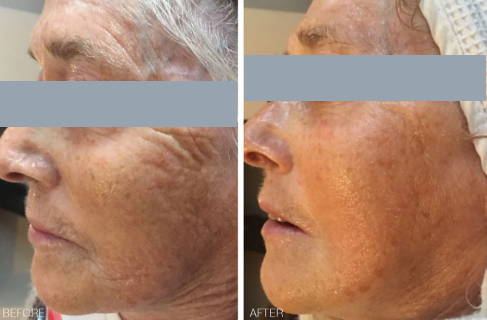 BT Sculpt uses a microcurrent technology to

stimulate production of ATP

(also known as

Adenosine Triphosphate

) in the cells.

ATP is the ONLY form of cellular energy

that our body can use for

all functions of life.

It's the power house and the fuel that is necessary to

power every cell in our human body.
Low ATP levels is where the true

ageing process begins

and low levels of ATP result in:


Loss of collagen

Fine lines and wrinkles

Uneven skin texture

Discolouration

Muscle atrophy (weakness and loss of muscle mass)
A healthy human body will use what is equivalent to their

body weight in ATP everyday

.

As the skin is the largest living organ in the body, it requires substantial amounts of ATP to thrive, regenerate and renew itself. By the time we reach the age of 60, our ATP production will have

deteriorated by nearly 50%.
When used at least 3x per week, the BT Sculpt:
Improves youthful integrity and skin texture

Encourages longevity or facial sculpting

Increases collagen synthesis

Increase blood circulation
The patented technology of the bt-sculpt® self-tensioning 4-probe system ushers in a new era of results by delivering the optimum level of facial lifting in the palm of your hand.

The lower two probes feature a unique spring system that provides just the right amount of assisted lift for an anatomically optimised service.

Each of the four probes are machine crafted from surgical quality stainless steel with a uniquely distinct shape and precision matte finish. This ensures perfect skin contact and tension during the treatment for exceptional coverage and skin lift.

 

 
The BT Sculpt will give your skin an instant lift with no downtime. With consistent use, the BT sculpt give these effects to the skin:
Lifts

Tightens

Tone

Sculpts

Improves circulation

Gives a brighter and more energetic complexion

My name is Sarah and I am the founder of GLO Skin Body. With 20 years experience, I believe a professional relationship with your skin therapist is crucial in helping you to achieve your skin care goals and to ensure your skin is always looking and feeling its best. Whether it's in person or through our online support, Im here to guide and support you towards your healthiest skin ever.
On a personal note, I am a Mum of 3 so I understand completely the juggles and balancing of life and family commitments . My goal is to help everyone have an effective and enjoyable home care routine that gets you the results you want... no matter how busy you are!