Retinol - A 'Gold Standard' ingredient when it comes to addressing concerns of ageing!
Retinol works on the skin to help soften lines and wrinkles, fades uneven skin tone, smoothes the skin and minimises the sppearance of visible pores.
Retinol also has a reputation for causing sensitivity or dry, flaky skin. It can be a real juggling act to find a Retinol serum that delivers on results, and at the same time, respects the health and balance of the skin.

How is Dynamic Skin Retinol Serum different?
When is comes to the health of the skin, Dermalogica's priority in any product formulation is that the health of the skin remains at its optimum.
This high-dose Retinol formula features multiple retinoids, working at different speeds, to address the four signs of skin ageing:
Helping to reverse the appearance of wrinkles

Evening skin tone

Retexturising skin

Minimising the appearance of pores
What makes this advanced Retinol formula unique, is that not only have they balanced different types of Retinoids, they've balanced a 3.5% Retinoid complex with skin-strengthening ingredients, to maintain optimal skin health and reduce the potential for irritation.
Real results and skin health go hand in hand with Dynamic Skin Retinol Serum.

3.5% retinoid complex:


Retinol

– Boosts skin cell turnover for smoother skin and softened lines and wrinkles.

Encapsulated Retinol

– Time released to gradually address the four signs of skin ageing.

Granactive Retinoid

– A highly stable Retinoid that acts fast to help reduce the appearance of fine lines and wrinkles.

Retinol Booster

– Works in synergy with Retinol to further firm the skin.  

Squalene

- Replenishes, smooths fine lines and wrinkles, and helps support skin resilience.

Beta-Glucan

– Derived from oat, hydrates, supports skin barrier and skin recovery.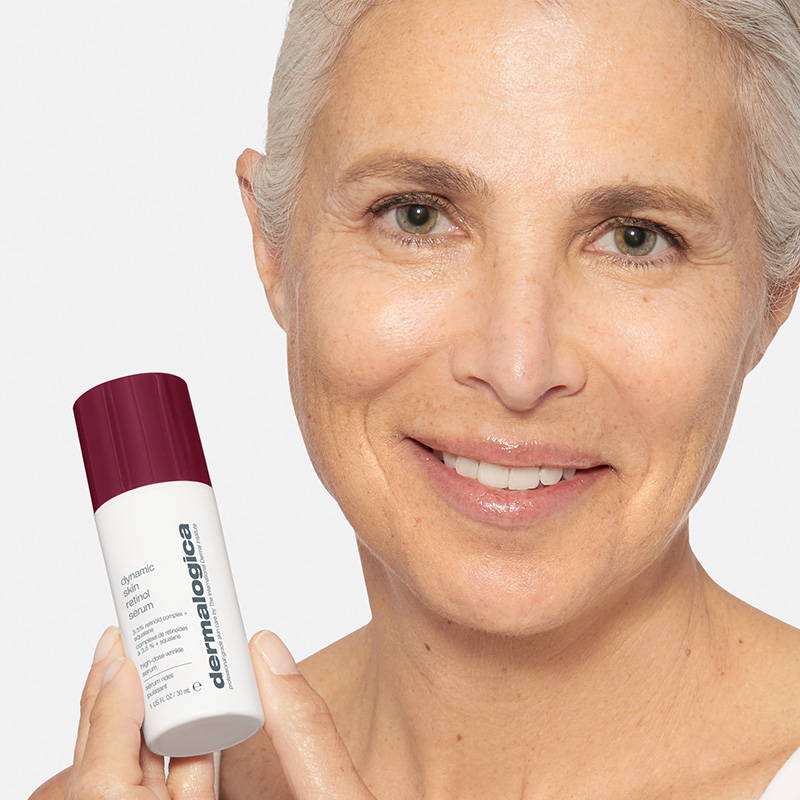 How to use Dynamic Skin Retinol Serum
Retinol is an ingredient that should only be used at night.
Step 1: Double cleanse your skin beginging the first cleanse with PreCleanse, followed by your prescribed Dermalogica Cleanser.
Step 2: Spritz with your Dermalogica Toner and then apply a thin layer (approx 1 pump) of the Dynamic Skin Retinol Serum over your face and neck area. Avoid the eyes and the lip area.
Step 3: Follow with your prescribed Dermalogica moisturiser.
PRO Tips:
As retinol speeds up cell turnover, its

imperative to wear sunscreen daily

(even if you are inside) and reapply when spending prolonged periods outdoors. We recommend the Dynamic Skin Recovery SPF50 as it's is a hydrating moisturiser and sunscreen in one and partners perfectly with Dynamic Skin Retinol Serum, helping protect and preserve both results and the health of the skin.  


Increase your use of retinol over time, beginning with a few times a week, building up to nightly. Your skin will let you know the ideal frequency for you to use Dynamic Skin Retinol Serum.
If you need any support around the use of retinol on your skin, please reach out to us. We offer complimentary Online Skin Consultations via email, zoom or phone.

My name is Sarah and I am the founder of GLO Skin Body. With almost 20 years experience, I believe a professional relationship with your skin therapist is crucial in helping you to achieve your skin care goals and to ensure your skin is always looking and feeling its best. Whether it's in person or through our online support, Im here to guide and support you towards your healthiest skin ever.
On a personal note, I am a Mum of 3 so I understand completely the juggles and balancing of life and family commitments . My goal is to help everyone have an effective and enjoyable home care routine that gets you the results you want...no matter how busy you are!