HELP!!
"My teenager is getting breakouts!"
Something we hear so frequently and I love that parents are taking the steps and getting their kids into a good skincare routine from such an early age.
I personally remember the teenage days, the big red breakouts - sore and embarrassing.... I just wanted to cover them up but more importantly, I wanted them gone!
Unfortunately, many teenagers will be prone to breakouts due to the hormonal changes, stress, lifestyle and diet and we need to help guide them about how these factors can contribute to breakouts and how they can take care of their skin on a daily basis. Besides a good homecare routine, I always make a point of getting them into some healthy home care habits and when we start them young, these healthy habits will be with them for life... and part of healthy skin is making sure this is all in place.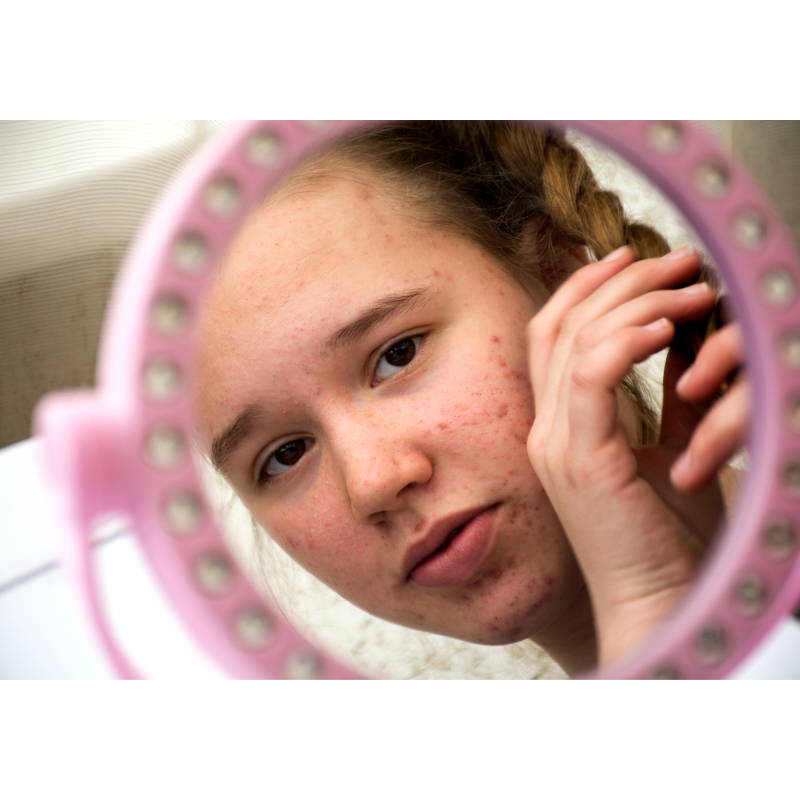 Teenage years are full of change and unfortunately for many teens, their skin shows these changes - from blackheads to breakouts, oily skin, sensitivity, these are all the common concerns we tackle when we are treating and educating teenagers about their skin. Over the years, I have come to see some common areas we need to help teenagers with around their basic home care habits:
1. Cleanse the skin morning and double cleanse the skin at night to remove sweat, oil, dirt and make up that is on our skin. This is especially important for the teenage girls wearing makeup.


2. Moisturise morning and night.  I often hear of teenagers avoiding moisturiser because their skin already feels oily. If we don't moisturise a skin, oil flow can increase to help compensate for the lack of moisturising on the skin. Even with this oil, our skin needs to be protected and kept hydrated and an oil-free moisturiser will fit best.


3. Avoid touching your face. Our hands come in to contact with so much during the day and the last thing we want to see is this dirt, bacteria etc to be transferred to the face.


4. Sporting Caps are a tricky one because we want to make sure their faces are protected from the sun however the sweat and oil and continual wear can create unwanted congestion and breakouts on the forehead area. Have a few caps that can be rotated and washed regularly to help with this.


5. A diet full of fresh fruit and veges and omega-3's will ensure they are giving their bodies the essential vitamins and minerals. This will all impact the skin. Teenagers love fast food, the soft drinks and sugar and all of us will notice changes in our skin if we have these eating habits on a daily basis (not just the teens). High levels of sugars and saturated fats can spike insulin levels which cause an increase in skin oils which contribute to the clogging of follicles... which then has an effect on the skin's complexion.
What products can my teenager use on their skin?
When taking care of teenage skin, we want to make sure the products they are using are targeting the common concerns for them plus, not too aggressive as their skin is so young.
Dermalogica's Clear Start range was created by the skin health experts at Dermalogica and perfect for teens and tweens age group. This is a skin care system of powerful, technology-driven formulas that deliver fast-acting, multitasking results for breakout-prone skin. Formulated without artificial fragrances or colours, Clear Start™ combines the best of science with nature to fight breakouts without stripping the skin. Every product contains active breakout-fighting ingredients and soothing natural botanicals that keep skin clear, hydrated and balanced.
It is simple, easy and effective and it's also fun, take a look...
For everyone, cleansing is the most important step in our home care routine. Cleansing every morning with the Breakout Clearing Foaming Wash and following with the Micro-Pore Mist helps cleanse the skin ready for the day. Most importantly we need to double cleanse at night - the first cleanse will remove dirt, oil, grime and the second cleanse will ensure the skin is left thoroughly clean.
Clears away dead skin cells, dirt and excess oils.

minimises appearance of pores and blackheads

Gentle on the skin
---
Helps reduce visible pores

Can be used throughout the day if you notice some oil

Helps with post breakout marks Sensitive skin friendly
---
Having clear skin is high on the list of must-haves with teenagers and their skin. Whilst the cell turnover is high in a teenage skin, we want to make sure the follicles are kept clear as this will increase the impactions which lead into the formation of breakouts. Salicylic Acid is a fantastic ingredient as it helps dissolve the debris in the follicles and increases the skin natural exfoliation process. Its gentle yet effective approach keeps teenage skin smooth and clear!
Effectively clears pores and prevents breakouts

Eliminates blackheads

Helps control excess oil
To Moisturise and Protect:
So many teens aren't moisturising their skin because "it makes my skin oilier and its already oily". The truth is without moisturiser, our oil flow increases to help compensate for the lack of moisture on our skin.
Light-weight, soothing and hydrating

Balances oil and combination skin types

Helps ease irritation

Hydrates without the extra oil
---
Great to help calm the redness around blemishes

Gives the skin a dewy appearance without the oil

Help protect the skin against environmental aggressors
---
Helps visibly fade Post-Inflammatory




Hyperpigmentation caused by breakouts

Gently exfoliates and evens skin tone

Restores and nourishes compromised skin
Ultra-lightweight moisturiser provides a

long-lasting matte finish

Helps shield skin from




UV rays, pollution, make-up and dehydration




without clogging pores

Maintains hydration in the skin
---
To get your teen started with a Kit, check out the Clear Start Breakouts Clearing Kit.
Still need guidance? We are here to help you and your teens with their skin. We offer complimentary Online Skin Consultations via email, Zoom and phone so reach out and one of our Skin Experts will be happy to help.
---


My name is Sarah and I am the founder of GLO Skin Body. With over 17 years experience, I believe a professional relationship with your skin therapist is crucial in helping you to achieve your skin care goals and to ensure your skin is always looking and feeling its best. Whether it's in person or through our online support, Im here to guide and support you towards your healthiest skin ever.
On a personal note, I am a Mum of 3 so I understand completely the juggles and balancing of life and family commitments . My goal is to help everyone have an effective and enjoyable home care routine that gets you the results you want...no matter how busy you are!