Targeting a specific skin concern involves consistently addressing this throughout multiple steps in our skin care routine.
When it comes to ageing, applying what is now my newest 'perfect pair', your skin will benefit from these unique and powerful ingredients. The Phyto Nature Firming Serum and Phyto Nature Oxygen Cream are designed to work together synergistically, providing a comprehensive skincare solution for concerns of ageing and leaving the skin with a more youthful, radiant complexion.
The Phyto Nature Firming Serum will be applied first after cleansing and toning your skin, followed by the Phyto Nature Oxygen Cream.
---
---
---
Dermalogica's AGESmart Phyto-Nature Firming Serum is a dual-phase serum designed to address up to 50% of externally-driven skin aging caused by factors like UV exposure, pollution, stress, and diet.
Its breakthrough formula reactivates the skin's natural defense and structure mechanisms, while providing next-generation hyaluronic acid and botanical bio-actives to prevent premature ageing.
Clinically proven to reduce visible wrinkles in just four weeks, this serum is a science and nature fusion to lift, firm and protect the skin against environmental aggressions.
It can be used twice daily and is a great solution to restore youth, resilience and luminosity to your skin.
Key Ingredients
Sapphire-bound biomimetic -

targets firmness and strenghtens our skin defenses

Amazonian Camu Camu -

prolongs radiance

and contains 60 times more Vitamin C than an orange
Moroccan-Rockrose Extract -

helps neutralise skin-damaging free radicals

Madagascar Green Coffee Bean -

helps revitalise the skin and decrease the appearance of fine lines and wrinkles

Next - Generation Hyaluronic Acid -

delivers a filter effect

and maintains moisture levels in the skin
Phyto Nature Oxygen Cream is a liquid cream that effectively penetrates mature skin to maintain its healthy and youthful appearance. With its oxygen-optimizing phytoactives, the formula works for all skin types concerned with ageing.
Oxygen is crucial for skin health as it enables skin cells to grow and repair damage, resulting in a vibrant and glowing complexion.
Inadequate oxygen levels, on the other hand, can lead to wrinkles, dullness, and skin infections. Keep your skin strong and healthy with the fuel it needs - oxygen!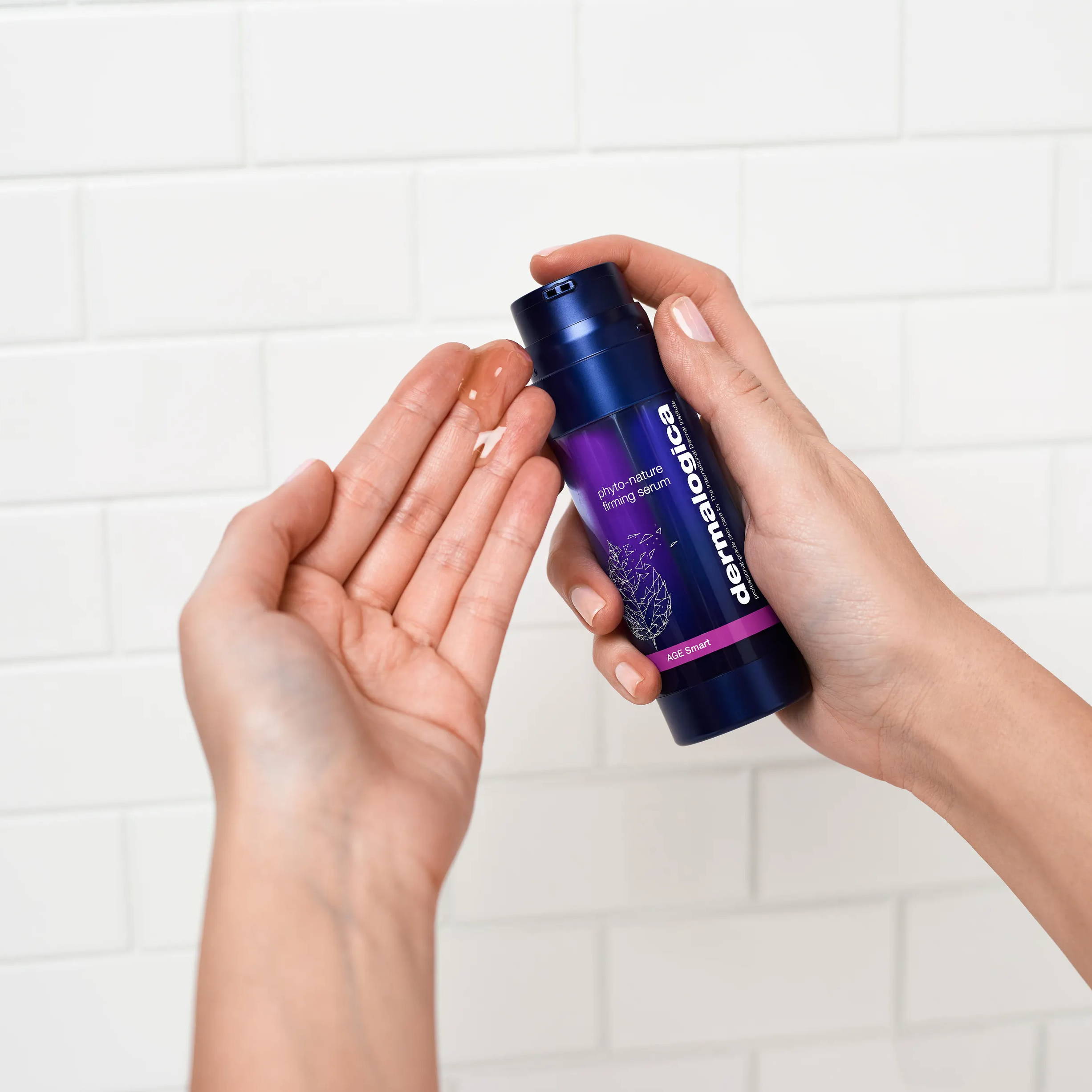 Key Ingredients
These ingredients are unique and premium and will reawaken the nature of younger-looking skin.
Ligustrum Seed -

Optimises skin's oxygenation process to firm and energise

Nasturtium Flower -

Helps facilitate our cyto globin which is the part of our blood that helps transport the oxygen

Luffa Root -

Energises the cells so there's an increase in collagen production

Adaptogenic Astragalus and Electric Daisy -

Provides instant lifting and smoothing and reduces fine lines and wrinkles

Rose of Winter -

Helps with the absorption of oxygen from the atmosphere

Squalene and Glycogen -

Deeply hydrating and helps restore barrier and moisturise
How to use these Perfect Pair products
Here is an example home care routine for someone concerned with ageing and incorporating the Phyto Nature Firming Serum and the Phyto Nature Oxygen Cream:
MORNING
Cleanse with your prescribed Dermalogica cleanser

Spritz with the Antioxidant Hydramist
Apply 1 pump of the Phyto Nature Firming Serum

Apply your prescribed Dermalogica Eye Treatment

Apply 1 pump of the Dynamic Skin Recovery SPF50
NIGHT
Cleanse with PreCleanse

Cleanse with your prescribed Dermalogica Cleanser

Spritz with Antioxidant Hydramist

Apply 1 pump of the Phyto Nature Firming Serum

Apply 1-2 pumps of the Phyto Nature Oxygen Serum
---
If you would like advice about your skin and guidance around the Dermalogica products, please reach out to us. We offer complimentary Online Skin Consultations via email, zoom or phone.
---

My name is Sarah and I am the founder of GLO Skin Body. With almost 20 years experience, I believe a professional relationship with your skin therapist is crucial in helping you to achieve your skin care goals and to ensure your skin is always looking and feeling its best. Whether it's in person or through our online support, Im here to guide and support you towards your healthiest skin ever.
On a personal note, I am a Mum of 3 so I understand completely the juggles and balancing of life and family commitments . My goal is to help everyone have an effective and enjoyable home care routine that gets you the results you want...no matter how busy you are!