Have you heard yourself saying...
"My skin feels dry"
"My skin feels tight during the day"
"My skin looks dull"
These are common changes we experience when our skin is dehydrated - especially during the cooler months of the year.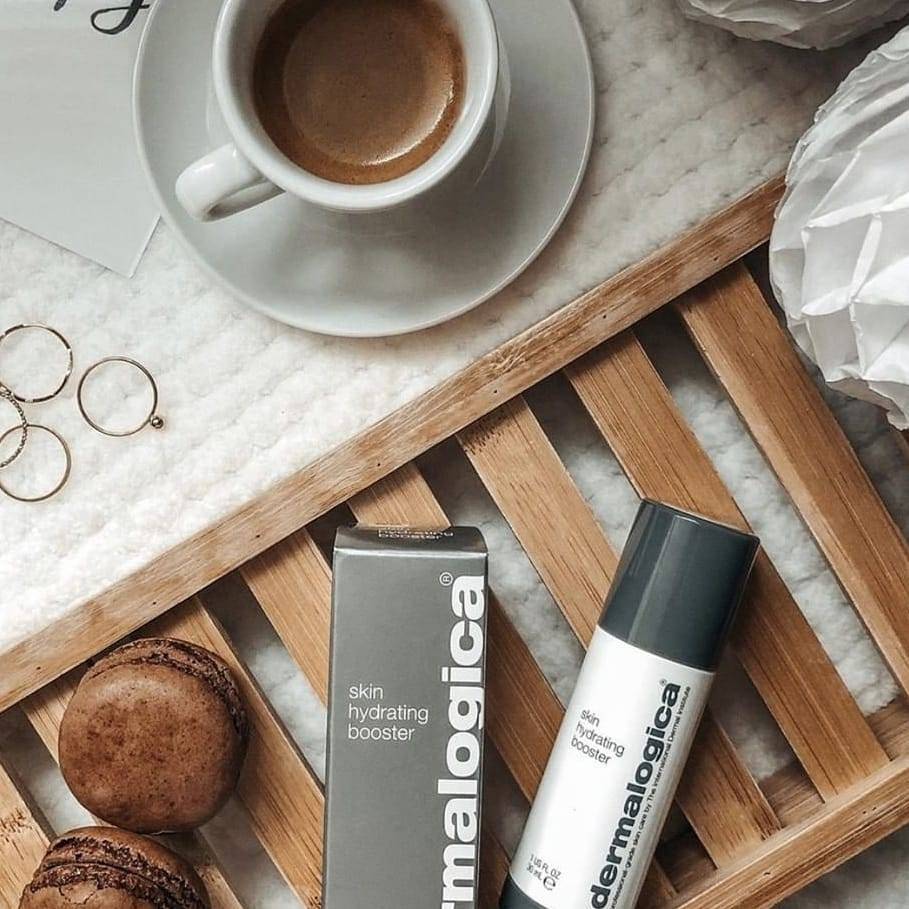 What is the difference between dry and dehydrated skin?
Produces less natural oils from the oil glands on the skin.

You will experience very little or no oil shine on your skin during the day

Oil forms part of our protective barrier in the skin and a skin that has little or no oil means our skincare needs to support and include ingredients that will help promote nourishment and repair to the skin.


When the skin lacks moisture (water).

Any skin can experience dehydration... even oily skins.

Results in the feeling of tightness on the skin and also flakiness.

If you have oily skin, it's common to experience an increase in oil if dehydration is present on the skin.

Many external factors around us can increase the levels of dehydration in the skin so it's important that no matter how oily your skin is, hydration is a daily focus in your home care routine.
When incorporating a hydrating serum in your home care routine - look for Hyaluronic Acid or alike ingredients. Niacinamide (Vitamin B3) is also a great addition to your regimen when it comes to hydration.
Hyaluronic acid is found naturally in the skin and is responsible for holding moisture in the skin. It forms part of the support structures along with collagen and elastin. As we age, hyaluronic acid levels decline so even more of a reason to include this into your home care.
How does hyaluronic acid benefit my skin?
With so many benefits, lets take a look at the list of all the good things Hyaluronic acid will bring to your skin:
Absorbs quickly and effectively

Leaves the skin more plump and radiant

Improves elasticity

Regulates oil production

Reduces fine lines of dehydration

Alleviates feelings of tightness and dryness on the skin

Helps build resilience in the skin to protect against the harsh elements

Smoothes the texture of the skin
Whether you have oily skin or oil-dry skin, Dermalogica has got you covered when it comes to ensuring your hydration remains a focus in your daily routine.
Perfect for oil-dry and combination skin types
Feather light hydrating oil that absorbs rapidly into the skin and smoothes fine lines of dehydration whilst shielding and protecting the skin. Leaves the skin with an all-day dewy appearance.


Key Ingredients


Hydroxy-Methoxyphenyl Decanone- Potent Hyaluronic Acid Booster, antioxidant and anti-irritant
Camelia Oil: Inhibits water loss from the skin
Orchard Flower Extract: Seals in moisture
Sunflower Seed Extract: Decrease moisture loss and provides antioxidant protection to the skin
To use: After cleansing, press 4-5 drops into the face and neck area. Follow with your prescribed Dermalogica moisturiser.

A super saturating and non-greasy serum that absorbs easily into the skin. Helps to minimise fine lines of dehydration and retains critical moisture levels...it's like a big drink of water for your skin.
Key Ingredients
Hyaluronic Acid: holds 1000 times its weight in water for powerful hydration.
Panthenol (Pro-Vitamin B5): aids in skin repair and hydration.
Algae Extract: nutrient rich; helps restore moisture balance while softening skin.
To use: Apply 5-6 drops to face and neck area after cleansing and toning. Follow with your prescribed Dermalogica moisturiser.


---
---


My name is Sarah and I am the founder of GLO Skin Body. With over 17 years experience, I believe a professional relationship with your skin therapist is crucial in helping you to achieve your skin care goals and to ensure your skin is always looking and feeling its best. Whether it's in person or through our online support, Im here to guide and support you towards your healthiest skin ever.
On a personal note, I am a Mum of 3 so I understand completely the juggles and balancing of life and family commitments . My goal is to help everyone have an effective and enjoyable home care routine that gets you the results you want...no matter how busy you are!