Ahh winter! Warm fires, healthy winter soups and cosy blankets. Some of the things that all make us feel nurtured and loved. That's exactly how our skin needs to feel during the colder months too! Protected, safe and comfortable.
Our skin changes seasonally, yet it likes consistency with the care it receives! So we must be aware of the seasonal changes and adjust our skincare accordingly. Our skin needs to feel healthy all year round.
What causes our skin to feel so different in winter?
The welcoming of the cooler months is where I see the most common changes in our skin (compared to any other time of the year!) and consistent feedback I hear is - "It's feeling so dry"
Why does this happen? The main reason is when the air outside becomes cooler, the water in our skin evaporates more quickly, and this makes our skin feel tight and dry.
Other reasons for skin dryness in winter:
- Hot and longer showers - Oh but they are so nice, I know! However, hot water melts our natural oils in the skin and it leaves us looking scaly and feeling dry.
- Increased indoor heating - We want to be comfortable, but my advice is to be aware the extra heating can dry out the skin and also our mucous membranes which can lead to chapped/dry lips.
- Not using a body moisturiser - When it's cold, all we want to do is get dressed! Our skin is then left dry without nourishment or hydration being replenished. A little tip - put your body moisturiser on straight after your shower, so it's done. Then, follow with your home care for the face and neck area... all while thinking warm thoughts!
- Not drinking enough water - Even when its cooler, our body still looses water, yet we don't tend to replenish it like we do in summer.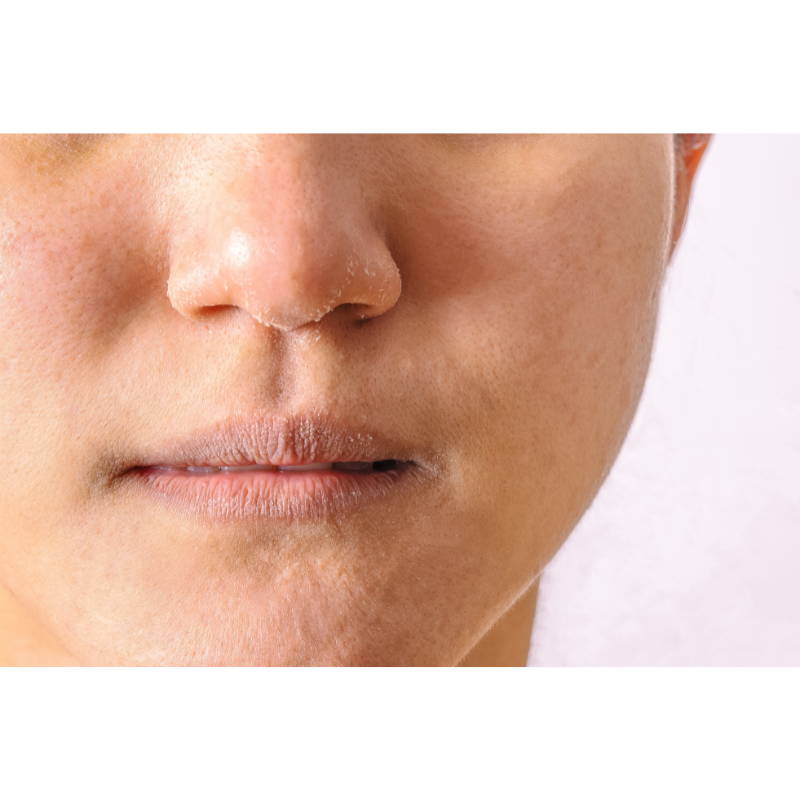 Does my skincare routine need to be adjusted in winter?
In short, yes, it does, in most cases and depends on your skin.
It's very common to have skincare products for summer and winter in your bathroom cupboard. Because our skin feels drier in the cooler months and experiences more dehydration, it's important our at-home skincare products provide some extra nourishment and hydration.
Additionally, when it comes to the oil on our skin, did you know that oil flow and hair growth slow down in winter?
This happens due to the decreased heat in the environment, which means less sweating and heat being produced by our bodies. So, when it comes to moisturiser, it's extremely common to move to a heavier moisturiser in winter, to compensate for this reduction in oil flow.
Our winter skincare essentials!
To cleanse and nourish
A creamy cleaner that is perfect for dry and dehydrated skins to effectively cleanse without damaging the skins barrier.
To moisturise and repair
Like a heavy weight blanket that locks in all the goodness and protects the skin from the harsh elements of the winter
---
A gentle way to exfoliate
Suitable for all skin types especially senstive skin
Gentle polishes and smoothes and leaves the skin looking refreshed and calm
Your sleep-in masque
A balm to oil masque that melts with your body temperature to smooth, hydrate, repair and protect.
---
Dehydration affects every skin so this is a must have for everyone
Locks in hydration and promotes barrier protection

Delivers natural hydration

Stimulates hydration from within
To smooth and hydrate
Contains a gentle exfoliating action to smooth dry patches and conditions the skin to help lock in essential hydration... plus, it smells amazing!
---
If you have been experiencing changes in your skin with the change of seasons and you need some advice, please reach out to us. We would love to help.

My name is Sarah and I am the founder of GLO Skin Body. With almost 20 years experience, I believe a professional relationship with your skin therapist is crucial in helping you to achieve your skin care goals and to ensure your skin is always looking and feeling its best. Whether it's in person or through our online support, Im here to guide and support you towards your healthiest skin ever.
On a personal note, I am a Mum of 3 so I understand completely the juggles and balancing of life and family commitments . My goal is to help everyone have an effective and enjoyable home care routine that gets you the results you want...no matter how busy you are!