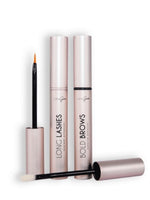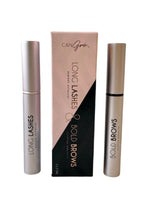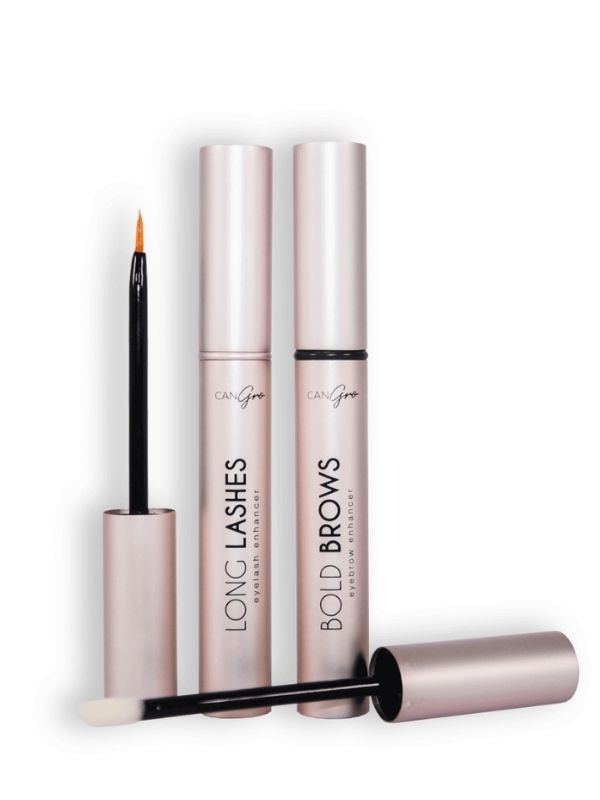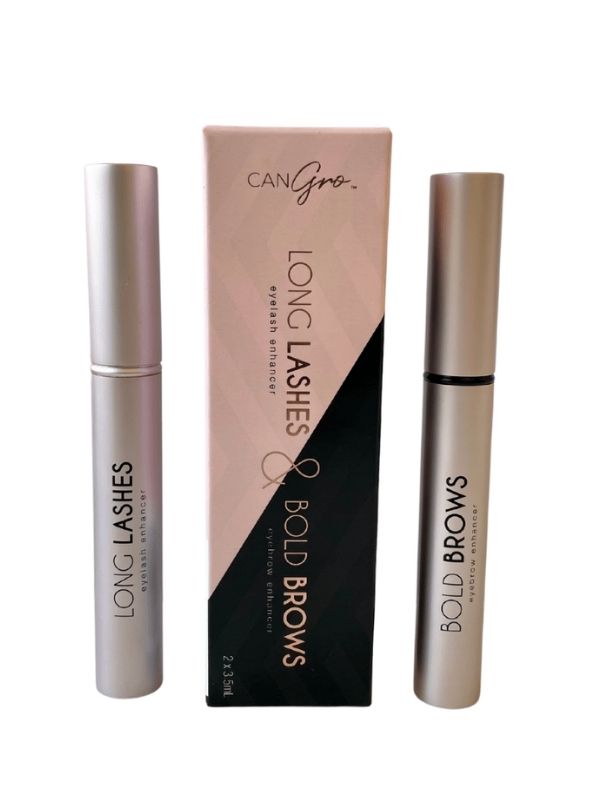 CanGro Lash & Brow Duo
Lash & Brow Duo provides the perfect solution to longer, thicker, healthier looking lashes and brows. Long Lashes Eyelash Enhancer helps your lashes look longer,... learn more
or 4 equal payments of

$39.60
SHOP NOW
ENJOY NOW
PAY LATER
Pay it in 4 | Interest-Free
At checkout, select Afterpay
as payment method
Use your existing payment card
Simply complete your
checkout
No long forms, instant
approval online
Pay over 4 payments
Pay every 2 weeks, enjoy
your purchase right away
$158.40
Earn up to

points with this purchase
This Product Ships for Free
Available and Ready for Dispatch
Description
Lash & Brow Duo provides the perfect solution to longer, thicker, healthier looking lashes and brows. Long Lashes Eyelash Enhancer helps your lashes look longer, thicker and fuller in 4-8 weeks, while Bold Brows Eyebrow Enhancer strengthens and conditions eyebrows for a thicker, fuller look. 
How to Use
Prepare the eye area by ensuring it's clean and dry before using CanGro Long Lashes. Give the tube a good shake and remove excess product by wiping it inside the tube. Apply along your upper lash line, where your lashes meet your eyelid, allowing the product to reach your lash follicles. Wait for it to fully dry before applying eye makeup. For CanGro Bold Brows, start with a clean and dry eye area. Shake the tube well and apply the product under your eyebrow arch and any sparse areas in your eyebrow. Allow the product to dry completely before applying eye makeup. How often should I use Long Lashes and Bold Brows? Apply Long Lashes once or twice daily for the initial 12 weeks, then switch to every 2 days for continuous maintenance. This regimen will help you achieve and maintain the desired results.
How it Works
Cangro Long Lashes and Bold Brows are enriched with vitamins, peptides, and antioxidants that contribute to the strengthening and nourishing of your eyelashes and eyebrows. This results in the potential for longer, thicker, and fuller lashes and brows in as little as 4 to 8 weeks, with the full effect typically visible around 12 weeks. How does Long Lashes differ from other eyelash enhancers? Long Lashes stands out as a HORMONE-FREE solution. It does not contain prostaglandins, which have been associated with adverse effects like changes in iris color, darkening of eyelid color, eye inflammation, dryness, redness, itching, and watery eyes. Various synthetic prostaglandins go by different names, such as Isopropanol Phenyl-hydroxy-pentene Dihydroxy-cyclopentyl-heptenate (Isopropyl cloprostenate), Dechloro Dihydroxy Difluoro Ethylcloprostenolamide, and Bitamoprost. Importantly, Long Lashes and Bold Brows are formulated WITHOUT: Hormones, Petrochemicals, Parabens, Sulphates, Phthalates, Sodium Chloride, Palm Oil, Ethanolamine Compounds (MEA, DEA, TEA), Gluten, or Artificial Colors. What if I wear contact lenses? We recommend applying Long Lashes at nighttime, after you've removed your contact lenses for the day. What if I'm pregnant or breastfeeding? Please consult your physician before using Long Lashes if you're pregnant or breastfeeding, as it has not been tested in these situations. Your safety and well-being are of the utmost importance.
Ingredients
Aqua, Glycerin, Sorbitol, Chamomilla Recutita (Matricaria) Flower Extract, Niacinamide, Vitis Vinifera (Grape) Seed Extract, Panthenol, Sodium Lactate, Simmondsia Chinensis Seed Extract, Acctostaphylosn Uva Uris Leaf Extract, Sodium Hyaluronate, Myristoyl Pentapeptide-17, Myristoyl Hexapeptide-16, Myristoyl Tetrapeptide-12, Biotinoyl Tripeptide-1, Hydroxipropyl Guar, Hydroxyethylcellulose, Sodium PCA, Polysorbate 80, Polysorbate 20, Potassium Sorbate, Phenoxyethanol, Ethylhexylglycerin, Sodium Benzoate, Sodium Hydroxide.
Shipping & Returns
FREE Shipping on all orders $49+ with Australia Post's ground service including tracking.

Need it faster? Upgrade to Air Express Shipping for only $4.95.

Order by 4pm (Sydney time) and we will dispatch same business day.

98% of our parcels are delivered on-time, but delays do occasionally happen across our large country. Shipping timeframes are an estimate only.

Buy with Confidence: Satisfaction guaranteed when professionally prescribed.
What is it good for?
Leaves lashes and brows fuller, longer, and thicker
Filled with vitamins and antioxidants
Helps strengthen lashes and brows
Enhances the growth of brows and lashes leaving it looking fuller, longer, and thicker
Filled with vitamins and antioxidants
Helps strengthen lashes and brows
Fuller looking lashes & brows in only 4-8 weeks
What's inside?
An Australian made and owned products that are filled with vitamins, peptides, and antioxidants. It is vegan, gluten free, cruelty free and does not contain any harmful ingredients such as hormone and paraben and more
Flower Extract
Moisturises, cleanses, and smoothens skin, brows, and lashes
Moisturises, cleanses, and smoothens skin, brows, and lashes
Chamomilla Recutita
Provides skin-soothing effect that supports skin regeneration
Provides skin-soothing effect that supports skin regeneration
Vitis Vinifera (Grape)
Provides skin-protecting and conditioning component
Provides skin-protecting and conditioning component
Simmondsia Chinensis Seed Extract
Supports the barrier function of the skin
Supports the barrier function of the skin
Reviews
Questions