When we think of pregnancy, we picture a growing belly, a baby and a new life.

One of the things that fascinated me the most about pregnancy is how phenomenal the female body is when growing a little human. Every part of our body is changing, adapting and providing to this new life... including our skin!
With the changes that happen inside the female body during this time, it's common to see some changes in the skin. The biggest cause of these changes is hormone fluctuations.
The change we can see range from breakouts, hair growth, pigmentation, sensitivity and I have seen these changes happening in both my girl and boy pregnancies, so I can't share any gender predictions I'm afraid (wink).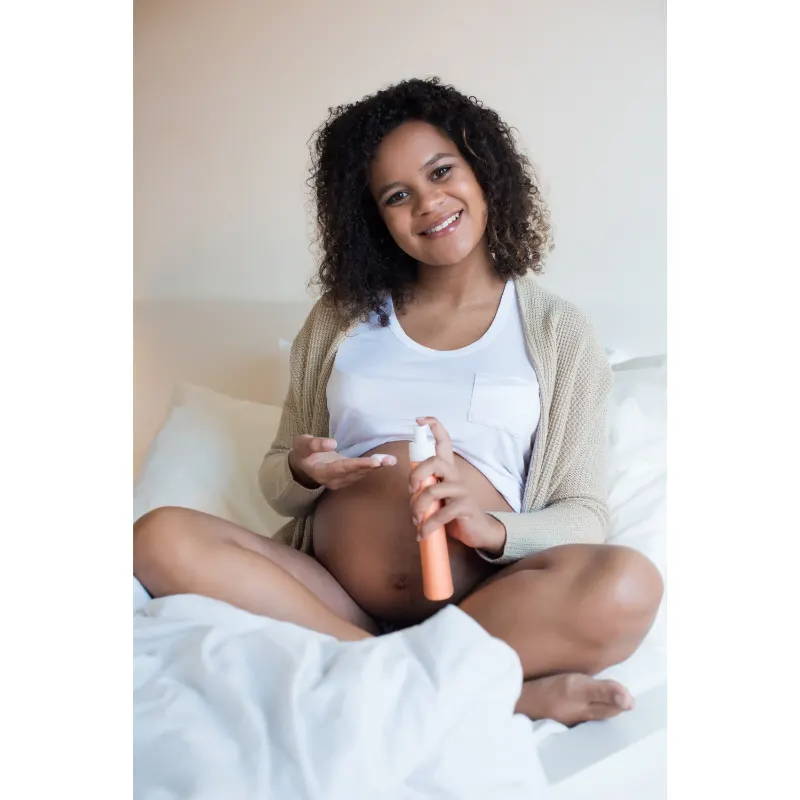 ---
What changes could I experience in my skin during pregnancy?
Although changes will always happen in our skin, some of us may experience all of them and others only see one of these changes during pregnancy.
Here are the common changes we may see in the skin during pregnancy and that, in many cases, can continue into the breastfeeding stage as well:
Some women may experience an increase in breakouts, while others may breeze through pregnancy without a spot!
The main reason behind those pregnancy breakouts is the increase in androgen hormones.
This rise in hormone levels causes the skin to produce more oil, which can then lead to an increase in clogged pores, bacteria, inflammation and finally breakouts.
Breakouts can happen in any pregnancy... even if you have never experienced breakouts before.
The good news is, in most cases, these breakouts will clear once the hormones return to normal.


Some pregnant women develop dark irregular patches on their face, most commonly on the upper cheek, nose, lips, and forehead.
This is called 'chloasma'. It is also sometimes known as 'melasma' or the 'mask of pregnancy'.
Increased hormones levels are one factor for this increase in pigmentation. Our hormones that stimulate skin colour reach its highest in the 3rd trimester.

Avoid the sun to prevent it from worsening and use a broad-spectrum sunscreen (which blocks ultraviolet A and B rays). However, some dark patches due to chloasma might never go away.
---
---
Pregnancy can make the skin more sensitive, even to products that you have comfortably used before. In addition, if you sunbathe while you are pregnant, you may burn more easily.
Protect your skin with a good high-factor sunscreen and don't stay in the sun for a long time.
Once again hormones play a part in this. Pregnancy can increase facial or body (or both) hair.
We may see extra facial hair around our lip and/or chin area. Some of this hair may naturally fall out around 6 months postpartum so my advice is only remove it if you absolutely need to.


What ingredients should I avoid when pregnant?

When it comes to skin care ingredients you should avoid during pregnancy, we always recommend you consult your doctor/ob for their advice.
Here is a guide as to what ingredients are safe and what are not:
Avoid
Retinol, Retinoids and derivatives

Strong dose of Salicylic acid

Hydroquinone

Essential Oils
Approved
Vitamin C and Niacinamide

Peptides and Antioxidants

Glycolic Acid, Lactic Acid

Hydro-Essential Oil blends
---
---

Key Dermalogica products that are safe to use during pregnancy:


Start your home care routine off with a calming cleanser

A gentle creamy-gel cleanser that is gentle and effective
---
You have so much to think about with your pregnancy- let this serum take care of your skin for you

Targets 4 areas of concern: Brightness, Firmness, Hydration and Redness

Treats these concerns before you notice them
---
Target the dark patches with this morning serum

Fades dark spots and helps balance uneven skin tone

Gives your skin a luminous appearance during the day
---
Lightweight, brightening and extremely hydrating

Renews and brightens the skin through gentle exfoliation

Smooths fine lines and wrinkles and protects against free-radical damage
---
Using a physical sunscreen or zinc based sunscreen is recommended when pregnant

Lightweight and sheer

Contains soothing ingredients for a sensitive skin
---
---
If you need any advice about which products are best for you during your pregnancy, please reach out to us for advice.
---
---


My name is Sarah and I am the founder of GLO Skin Body. With over 17 years experience, I believe a professional relationship with your skin therapist is crucial in helping you to achieve your skin care goals and to ensure your skin is always looking and feeling its best. Whether it's in person or through our online support, Im here to guide and support you towards your healthiest skin ever.
On a personal note, I am a Mum of 3 so I understand completely the juggles and balancing of life and family commitments . My goal is to help everyone have an effective and enjoyable home care routine that gets you the results you want...no matter how busy you are!