"I'm not a teenager anymore, why do I still have acne?!"
This is a question we, Skin Therapists, hear from clients regularly. The truth is, although acne is very common amongst teenagers, it's even more common for it to persist into adulthood (frustrating, I know!).
Let's take a look at some of the reasons you may still experience acne. Once we gain some insight into the reasons behind acne, we can often become a little more forgiving (and less stressed) about it.
First of all, when it comes to understanding the root cause of your acne and how to treat it, there's no "one size fits all". But we are here to help, so please reach out to us for a Complimentary Online Skin Consultation.
Why do I still have acne?
One or more of the following factors could be the reason behind your adult acne:
Incorrect product use

Not enough sleep

Dehydrated skin

Hormones

Stress levels

Gut health

As a professional Skin Therapist, I have seen so many clients using products that are not ideal for their skin. I can actually put my hand up here as well, as before I learned about the skin, I also thought what I was using was right for me (it really wasn't).
Talking to your Skin Therapist is crucial to the health of your skin. We are here to educate you on your skin type, and on the best way to treat treat your skin concerns using the correct products.

We offer complimentary Online Skin Consultations via zoom, email or phone, so please reach out to us and let's find what's BEST for your skin.
Did you know that while we sleep, our skin goes through all of its repair and regeneration proccess?
During the day our skin works hard to protect us from environmental aggressors.

At night, it works even harder in order to repair and regenerate itself. Therefore, if our sleep is inconsistent or lacking, we start to see changes on our skin.
Ensure your skin is double cleansed at night and always apply your serum and moisturiser following.
Here are some tips to ensure you give your body the best opportunity to sleep:
1. Try going to bed at the same time each night and waking up at the same time each day.
2. Pay attention to what you eat and drink. Lots of sugar and alcohol can hinder sleep, so as not eating enough or eating too much before bed.
3. Create a room that's ideal for sleeping... your body will instantly feel relaxed!
4. Limit daytime naps.
5. Include physical activity in your daily routine to help relieve stress.
6. Manage worries because we know how much these can keep us awake at night.
Revitalising gel-cream treatment transforms skin overnight by optimising nighttime skin recovery.

Visibly increases radiance by morning

Reduces signs of skin fatigue and stress and restores vitality

Aromatherapy stimulates the senses to help promote deep, restful sleep for healthier-looking skin
Dehydration is determined by the amount of moisture (water) in the skin.

Unfortunately, acne prone skins can easily become dehydrated due to harsh (and often incorrect) product use or the lack of a moisturiser in your routine (it's a common misconception that Oily or Breakout Prone skins don't need to moisturise).
When the skin gets dehydrated, it tries to compensate for the lack of moisture (water) by overproducing oil - which then leads to an increase in breakouts.
A good sign that your skin may be dehydrated is it looks oily, but it feels tight.
Dehydration can present itself as a feeling of wanting to put more moisturiser on your skin during the day or feeling that your moisturiser is not doing enough.
All skins can experience dehydration... no matter how oily or dry you are!
Maintains moisture levels to help prevent an increase in oil secretions

Hydrates tissues to smooth the skin

Improves suppleness and minimises the appearance of fine lines

Non-greasy formula suitable for all skin conditions.

Restores barrier layer to retain critical moisture levels and revitalises parched skin.
This is a big one. I often hear "I think its hormonal", but what exactly does this mean?
Women have more shifts in their hormones each month than men, and it is normal to experience constant changes on the body and skin.
In breakout prone, it's common to see a few extra spots around that time of the month, for example.
The main hormones that cause Acne are Progesterone and Testosterone.
Progesterone stimulates the production of sebum on the oil glands in the skin. It can cause the skin to swell, and compress the look of pores. Too much of it, however, can lead to oil build up.



Testosterone, which typically presents during menstruation, works similarly to progesterone by activating the sebaceous glands to produce oil.
When treating hormonal breakouts we recommend Dermalogica's Age Bright Clearing Serum and Spot Fader.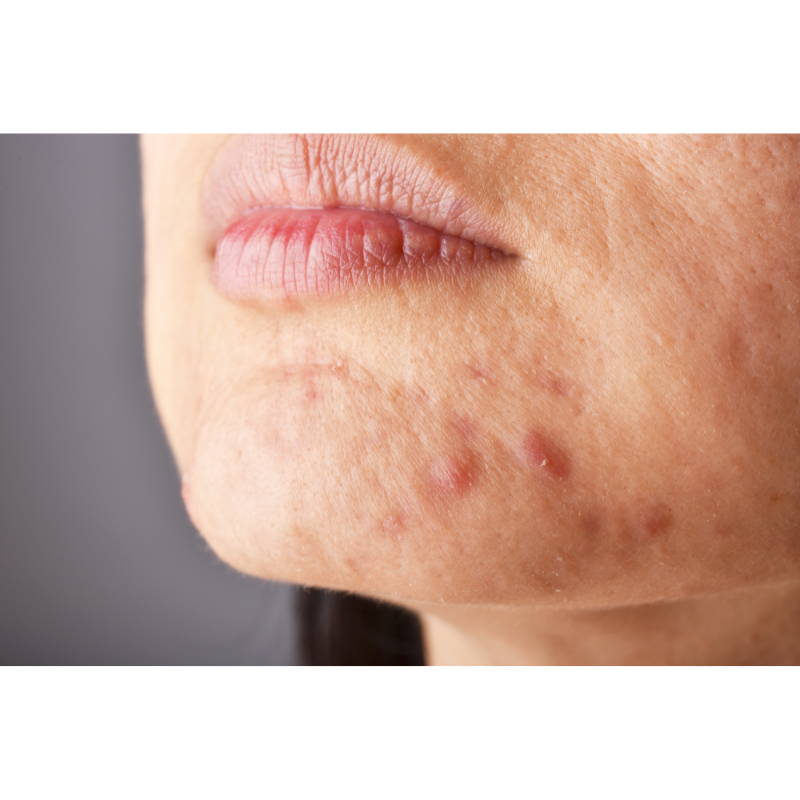 Stress doesn't actually cause breakouts. However, if you are prone to breakouts, you might notice an increase in acne during times of stress.
That is because stress causes an increase in the hormone 'cortisol', and this leads to an increase in oil secretion, which, as a result, leads to more breakouts.
During stressful times, our wound healing process also slows down, leaving those breakouts hanging around for much longer than we would like.
Stress may cause you to feel nervous or anxious, and pick at scabs or acne, or scratch your skin until it becomes red or breaks.

Here are some common stress relieving tips to help support your body during these times:
Taking a few deep breaths throughout the day

Practicing meditation or yoga

Getting a good night's sleep

Maintaining a healthy diet

Exercising regularly

Talking about what's stressing you with a friend, family member, or a counselor
Helping treat hormonal and stress breakouts
There is a direct connection between our digestive system and our skin. It's called the 'gut-skin axis'
The 'gut-skin axis' refers to all the connections between our skin and digestive system.
These two systems are directly affected by the world around us both internally and externally.
The communication between the skin and the gut is done through our body's microbiome. Our microbiome includes trillions of bacteria, fungi, and other living things. They live in and on our body, mainly in our gut and on our skin.
These microbes play an important role in our health. An imbalance in either the skin or gut microbes often affects the other. If there is an imbalance we can often see changes on our skin (not to mention the changes we notice internally - e.g. digestive issues and diseases etc)
This is my personal favourite! I love to add it to my coconut yogurt, mixed with berries. Bestow Gut Love + renews your skin from within by rebalancing your gut and promoting the efficient elimination of skin-irritating toxins from the body. In conjunction with a skin-friendly, gut-supporting diet you may notice the following skin benefits:
Dull or congested skin will become clearer and brighter.

Inflamed or sensitised skin will become calmer and stronger.

Deep, cystic acne (which indicates a hormonal imbalance) will begin to clear over time as waste hormones and toxins are efficiently eliminated.
For best results: We recommend starting with 1 teaspoon per day with food. This can be gradually increased to 1 tablespoon. Blend with your favourite milk, yoghurt or smoothie.  
Ingredients: Certified Organic, Cold Pressed Flax Seed Flour, Sunflower Seeds And Almonds. Uncertified Slippery Elm, Blackcurrant Extract, Citrus Pectin, Guar Gum, Liquorice Root, L-Glutamine, Organic Sulphur, Ginger, Uncertified Vitamin D Yeast, Biohm Probiotic.
Award winning at-home accessory to target acne
For the treatment of mild to moderate acne and helps to reduce the

appearance of redness and inflammation associated with acne and breakouts.

Uses two clinically proven wavelengths of red light and blue light

Reduces active acne and blemishes, redness & inflammation

Reduces and helps soften the appearance of acne scarring

Helps clear breakouts faster

All natural, no pain, side eects or downtime
---

My name is Sarah and I am the founder of GLO Skin Body. With almost 20 years experience, I believe a professional relationship with your skin therapist is crucial in helping you to achieve your skin care goals and to ensure your skin is always looking and feeling its best. Whether it's in person or through our online support, Im here to guide and support you towards your healthiest skin ever.
On a personal note, I am a Mum of 3 so I understand completely the juggles and balancing of life and family commitments . My goal is to help everyone have an effective and enjoyable home care routine that gets you the results you want...no matter how busy you are!