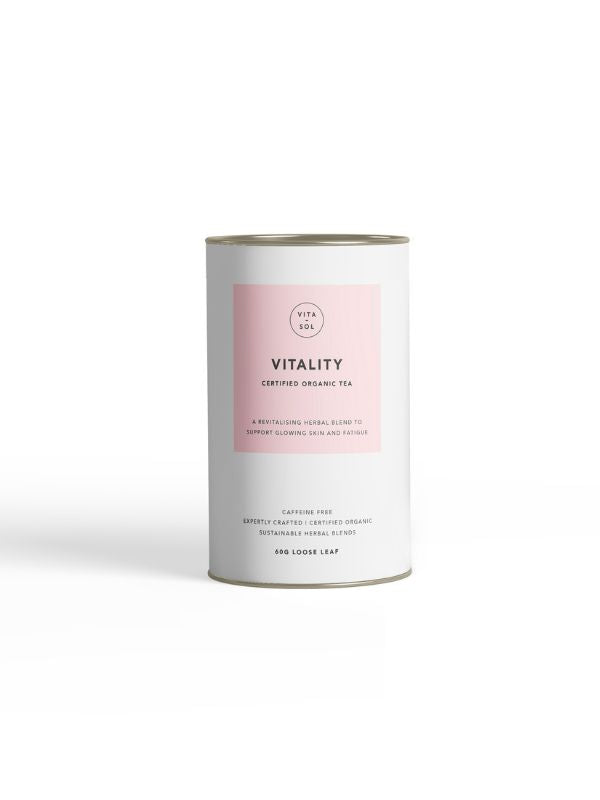 VITA-SOL Tranquillity Certified Organic Tea
Achieve glowing skin and banish fatigue with this caffeine-free blend of sustainably sourced herbs and adaptogens. Elevate your daily ritual with ACO Certified Organic goodness,... learn more
or 4 equal payments of

$8.25
SHOP NOW
ENJOY NOW
PAY LATER
Pay it in 4 | Interest-Free
At checkout, select Afterpay
as payment method
Use your existing payment card
Simply complete your
checkout
No long forms, instant
approval online
Pay over 4 payments
Pay every 2 weeks, enjoy
your purchase right away
Pre-orders will be dispatched in 3-4 business days
$33.00
Earn up to

points with this purchase
Free Shipping Orders $49+
Available and Ready for Dispatch
Description
Achieve glowing skin and banish fatigue with this caffeine-free blend of sustainably sourced herbs and adaptogens. Elevate your daily ritual with ACO Certified Organic goodness, sip by sip.
How to Use
Infuse one teaspoon in 250mls of hot water for two or more minutes. Sweeten with natural honey or fresh fruit pieces and serve chilled for a refreshing sip on hot days. Store resealed in a cool, dry place.
How it Works
The calming herbs in this tea help alleviate stress and anxiety, promoting a sense of tranquillity and relaxation. Enjoy a restful night's sleep with the soothing effects of this tea, making it an ideal choice for winding down before bedtime. Some ingredients in the tea, such as chamomile and peppermint, can aid in digestion and provide relief from digestive discomfort. Certain herbs in the blend are rich in antioxidants, which can help protect your body from oxidative stress and support overall health. You can trust that every sip of this tea is made from high-quality, organic ingredients, free from harmful pesticides or additives. Incorporating VITA-SOL Tranquillity Certified Organic Tea into your daily routine promotes holistic well-being by nurturing your mind and body.
Ingredients
Made with: Chamomile Flowers, Lemon Balm, Lemon Myrtle, Passionflower, Lavender. Made without: NO GMO, eggs, nuts, gluten, dairy, synthetic vitamins, artificial ingredients, flavours, colours, preservatives or additives.
Shipping & Returns
FREE Shipping on all orders $49+ with Australia Post's ground service including tracking.

Need it faster? Upgrade to Air Express Shipping for only $4.95.

Order by 4pm (Sydney time) and we will dispatch same business day.

98% of our parcels are delivered on-time, but delays do occasionally happen across our large country. Shipping timeframes are an estimate only.

Buy with Confidence: Satisfaction guaranteed when professionally prescribed.
What is it good for?
Helps reduce stress and promotes relaxation. Ideal for improving sleep quality and aiding in bedtime relaxation. May soothe digestion and ease discomfort. Contains antioxidants for overall health.
ACO Certified Organic blend
Expertly formulated
Supports a restful sleep
ACO Certified Organic blend
Caffeine free
Reviews
Questions